There's a growing number of businesses and individuals around the world that accept cryptocurrency payments. It can be challenging for ecommerce businesses, SMEs and even big businesses to find a suitable crypto payment gateway. This article looks at best platforms for accepting crypto payments.
Benefits of crypto payment gateways
Lower fees. Crypto payment processing platforms have lower fees usually less than 1% compared to other payment gateways such as Skrill, which charges 2.90% (plus conversion fees). Credit card companies usually charge up to 3% of the transaction amount. In most cases, there's no monthly, registration, or maintenance fees with crypto payment gateways.
Integration. Conveniently integrate your store with leading accounting software (e.g., Sage and QuickBooks) and ecommerce platforms such as WooCommerce cryptocurrency payment, Shopify crypto payment, Magento crypto payment, etc.
Invoicing. Crypto invoicing tools offered ensure that you are paid in the correct crypto amount according to the current price, minimising volatility risks.
Irreversible. Crypto payments are irreversible and unchangeable, which reduces chargeback fraud.
New opportunities. They help merchants and businesses gain new customers and boost revenue.
Speed. The Bitcoin lightning network has made it possible for crypto transactions to take place almost instantly.
How Do Crypto Payment Gateways Work?
Crypto payment platforms or crypto payment gateways and processors allow you to accept cryptocurrency payments from customers for goods or services. This means you would accept Bitcoin the way you would normally accept other payment methods such as credit/debit card payments or bank transfer.
If done in the right way, these crypto payment gateways have no fees, are lightning enabled, let the money go straight to your own wallet and have an option to convert to fiat money when needed. There can be hosted bitcoin payment processors (Non-Custodial and Custodial), as well as self-hosted.
The following are some of the best Bitcoin payment gateways you can consider. For more information, also check out this awesome list of bitcoin and crypto payment processors.
BTCPay Server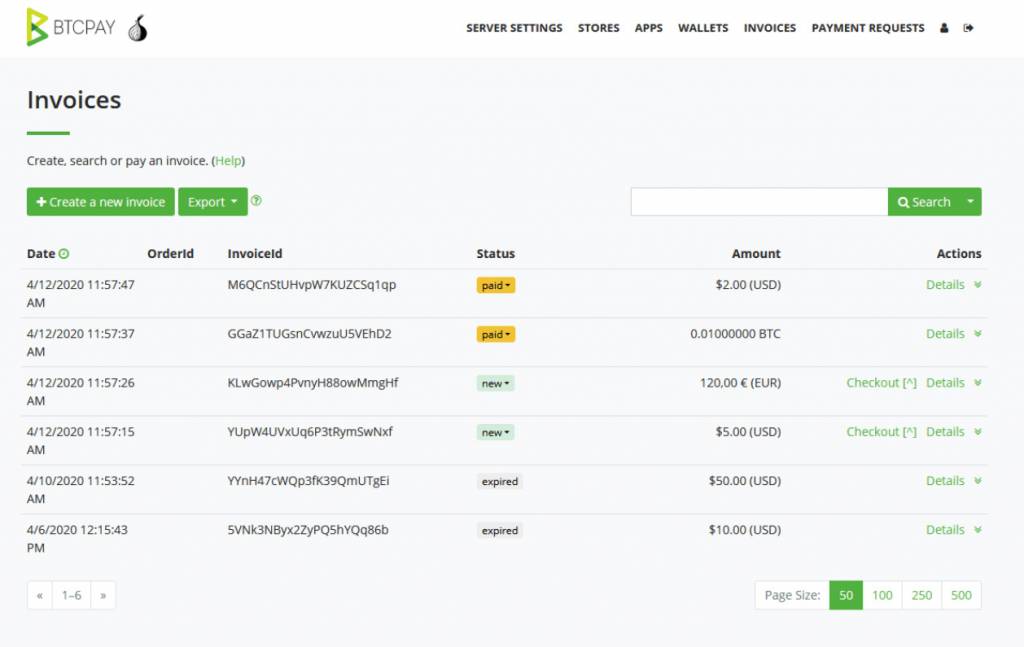 BTCPay Server is a free self hosted Bitcoin payment gateway. It is one of the leading open-source crypto payment gateways, which allows you to receive payments in Bitcoin (on-chain and via the Lightning Network) and altcoins directly, with no fees, transaction cost or a third party. This means that you are your own BTC payment gateway.
There are several plugins from the BTCPay Server for different online ecommerce patforms like WooCommerce, Magento, Woocommerce, etc. There is also BTCPayWall for selling digital content through BTCPay Server. BTCPayWall is only available as a WordPress plugin.
The open source crypto payment gateway BTCPay Server, can be used by ecommerce stores, merchants with physical stores, charities and content creators. Moreover, BTCPay enables individuals to become cryptocurrency payment gateways themselves so that they can process payments for their friends or local businesses and communities and help them accept Bitcoin at no cost.
The web-based PoS app allows merchants with brick and mortar stores to readily accept cryptocurrencies while online stores can easily embed HTML payment buttons to allow their customers to pay conveniently. When a site visitor clicks on the button, BTCPay displays an invoice.
Why can't I just give my Bitcoin address to a buyer? Re-using an address for receiving payments is a privacy issue. Providing a different address manually to each customer is not an optimal solution. Imagine having to send a unique e-mail to everyone that wants to pay you with cryptocurrency. BTCPay solves the address re-use issue. It automates the checkout process for the merchant by creating a new invoice with a unique address created from the merchant's wallet, each time a customer pays using BTCPay.
Blockonomics Cryptocurrency Payment Gateway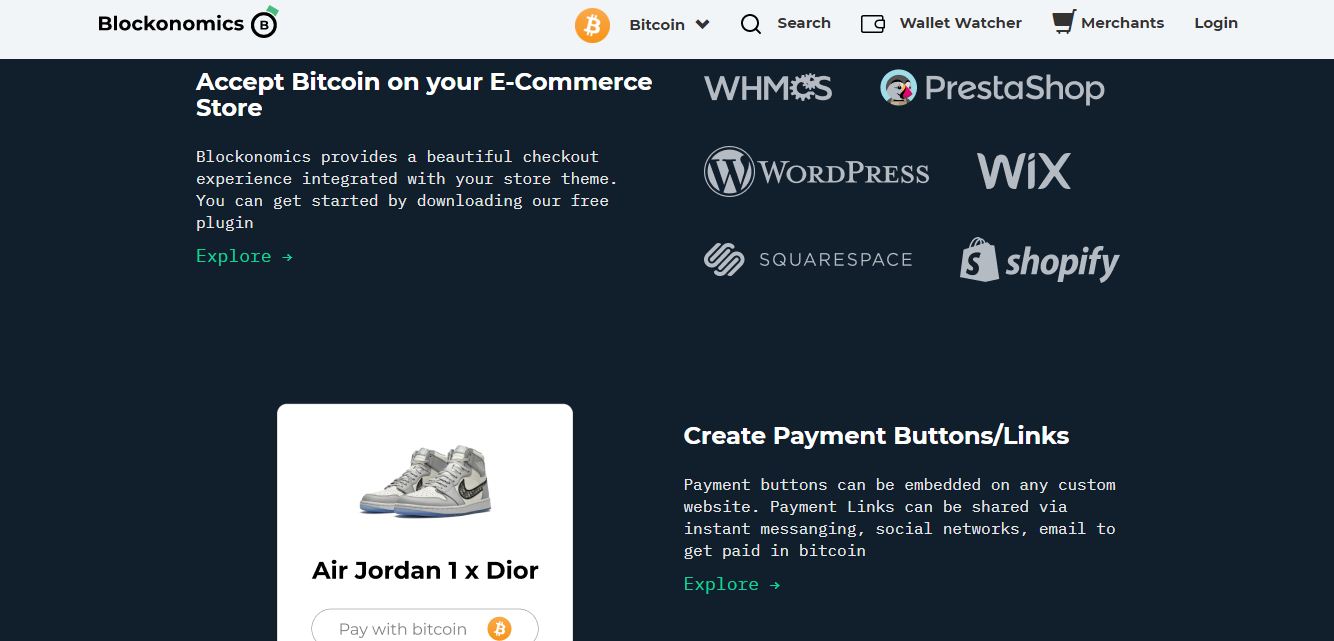 Blockonomics is a permissionless crypto payment solution. It allows you to receive payment directly into your own cryptocurrency wallet. The platform currently support Bitcoin and other altcoins and charges a 1% fee per transaction (first 20 payments are free).
Blockonomics does not ask for any KYC/doucumentation, only your email address is necessary. There is no limitation of BTC amount that can be received. In addition, you can issue P2P crypto invoices anonymously. Invoice details are encrypted on your browser and protected using secret key. The secret key is never sent to server, which only stores the encrypted invoice content.
Why do you need a cryptocurrency invoice? Crypto price is constantly changing so if your payee doesn't pay on time, you may end up receiving less amount of BTC. Therefore, crypto invoices help resolve disputes regarding exchange rate as it differs across exchanges.
Once a customers has paid in cryptocurrency, Blockonomics can make an instant conversion to fiat. This is done with the help Blockonomics fiat partner, Uphold Wallet. Blockonomics sends your received BTC payments automatically to your Uphold Wallet, which is then instantly exchanged to fiat. Uphold Wallet supports a number of methods of bank transfers including ACH and SEPA.
If you intend to sell your cryptocurrency once a payment has been made, Blockonomics can automatically send to your chosen cryptocurrency exchange. You only need to specify the exchange deposit address.
Stripe Crypto Payment Gateway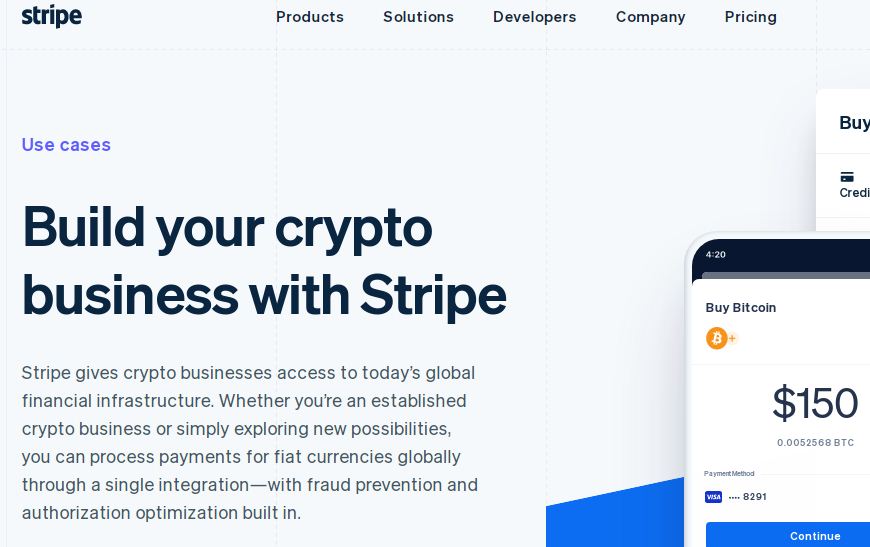 Stripe is a payment platform that gives your businesses the ability to accept cryptocurrency payments. The solution works for established crypto business as well as businesses exploring new payment options. The solution at comes with fraud prevention and authorization optimization.
You can scale marketplaces and onboard buyers and sellers for any kind of marketplaces. In addition, you can use Stripe Identity to verify the authenticity of ID documents from more than 33 countries, and instantly link US bank accounts for fiat payouts.
BitPay Crypto Payment Gateway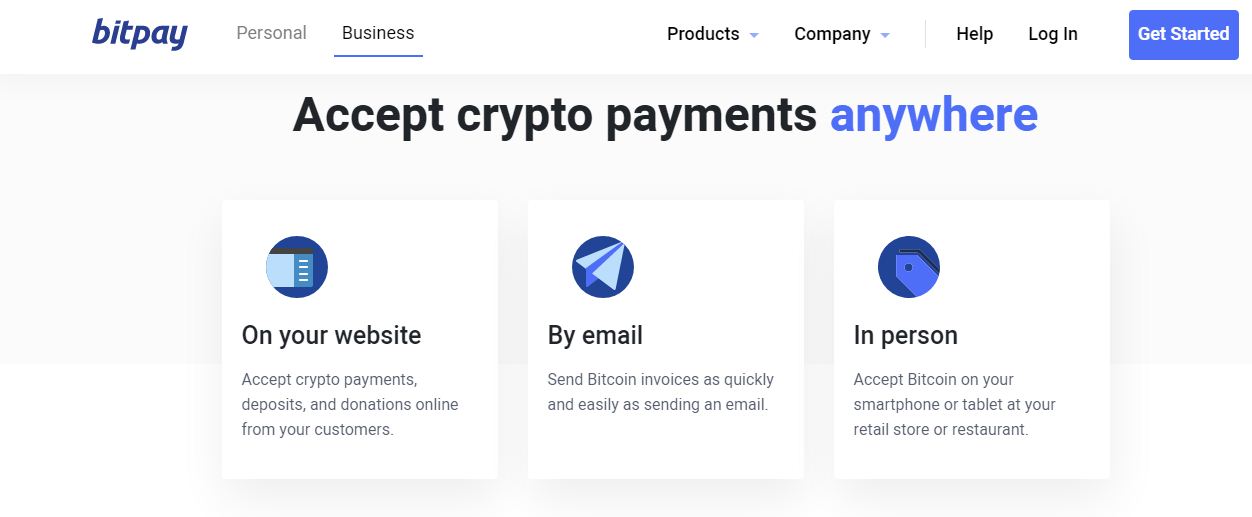 BitPay is an enterprise-grade tools for crypto payment acceptance and spending. With BitPay, you are able to create BitPay invoice at a locked-in exchange rate. Your crypto payments are received in your own wallet or BitPay non-custodial wallet, meaning you will have the full control of your crypto earnings. The company works with some reputable brands like Microsoft, Shopify and Zynga. It supports over 200 countries, over 90 crypto wallets and all major cryptocurrencies including Bitcoin.
There's unlimited monthly transactions and a 1% fee per transaction. Fees, however, may be higher for high risk businesses.
BitPay allows you or your business to accept cryptocurrency in three major ways.
In person. Accept Bitcoin on your smartphone or tablet at your retail store or restaurant.
By email. Send Bitcoin invoices to your customers as easily as sending an email.
On website. Accept crypto payments, deposits, and donations online from your customers.
Once you start receiving payments, you can order BitPay card (Mastercard) that you can use to convert your earned cryptos into fiat with no conversion fees. BitPay can also settle funds via local bank transfer (ACH, SEPA, FPS, etc.) in 8 currencies (USD, EURO, GBP, AUD, ZAR, CAD, MXN, and NZD) and direct bank deposit in 38 countries. The platform converts your payment into your local currency and initiates a bank settlement to you the next business day. In addition, you are able to spend your crypto holdings at Amazon and hundreds of other brands with BitPay's browser extension.
Paychant Crypto Payment Gateway (Africa)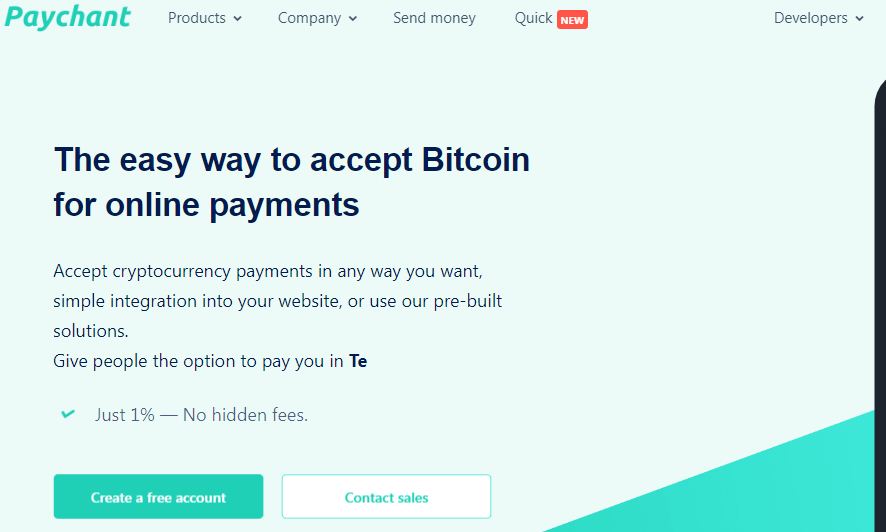 Paychant Inline is an African crypto payment gateway. It helps businesses in Africa to take crypto payments directly on their site and build global customer base. African merchants can personalise their decide which cryptocurrencies to accept on their checkout, making the payment checkout more payments' requirements.
Paychant's plugins can be integrated with several major E-commerce platforms such as plugin for Magento cryptocurrency payment gateway.
Paychant WooCommerce plugin lets merchants accept Bitcoin as a form of payment on their WooCommerce store.
Paychant Magento plugin allows smooth cryptocurrency payment on your Magento store.
Paychant PrestaShop payment module allows Bitcoin and other cryptocurrencies to be accepted as a payment method in any PrestaShop-based platform.
CoinGate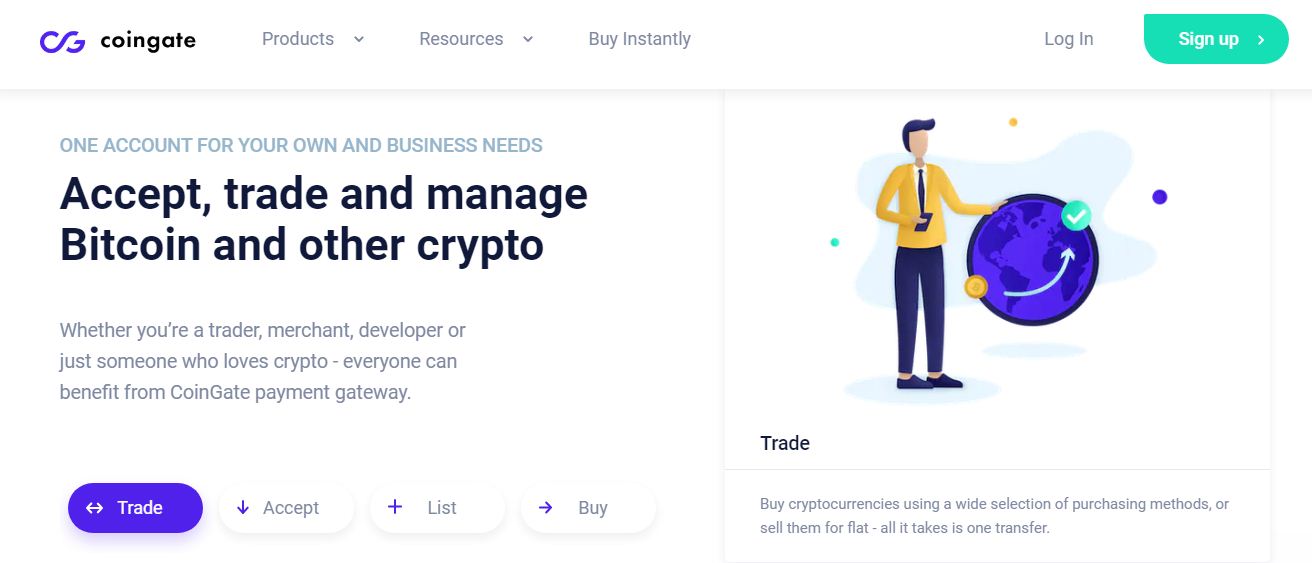 CoinGate is a Lithuanian-based cryptocurrency payments gateway for any website or physical store. Once you have signed up successfully for your account, you will have access to crypto payment features including payment buttons, web PoS application, API integration and official plugins for the biggest e-commerce platforms.
Cryptos received via CoinGate can be sent to any crypto wallet of your choice. You can also withdraw USD and EUR from your CoinGate account to your bank account, Skrill or AdvCash account.
The usual price for merchant payment processing on CoinGate is a 1% flat fee. CoinGate supports over 100 countries around the world, over 10 native cryptocurrencies and over 50 altcoins via cryptocurrency exchange Changelly. Find out supported countries here and supported altcoins here.
CoinPayments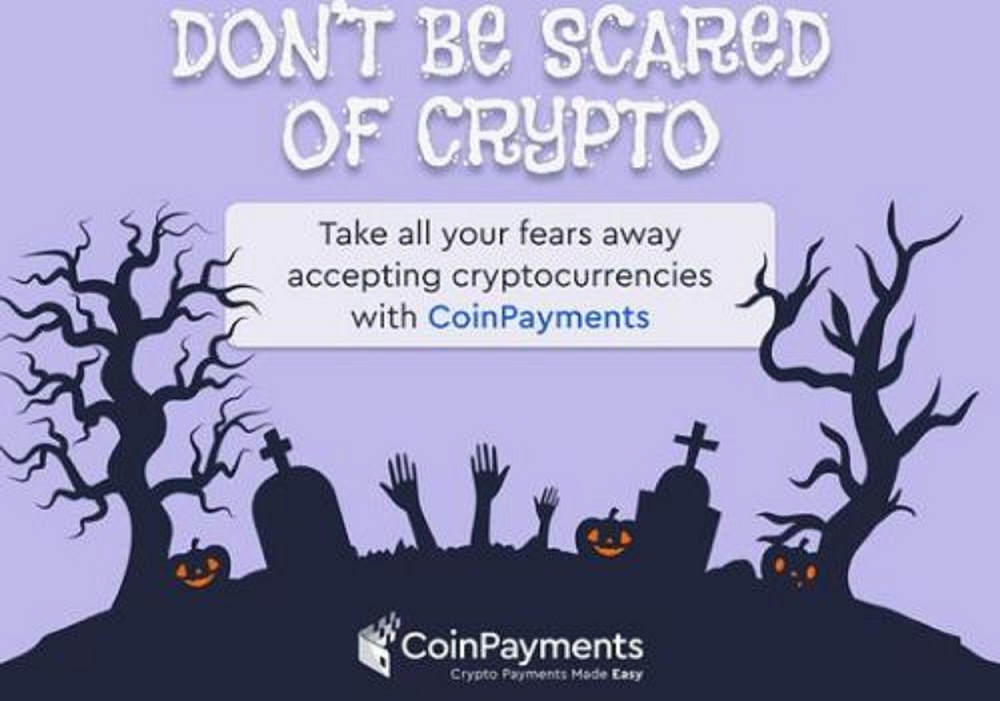 CoinPayments is a cryptocurrency payment gateway that gives you features such as eCommerce plugins (WooCommerce, Shopify, OpenCart, Magento, etc.) payment buttons, API, shopping carts, crypto invoice builder, fiat currency conversion to cryptocurrency and vice versa, instant notifications, POS for in-person transactions with crypto payments, and direct payments to partners. The platform supports all major cryptocurrencies including Bitcoin.
CoinPayments allows you to set your payout address to go directly to a cryptocurrency exchange enables you to automatically sell your cryptos lessening your risks of exchange rate fluctuation. You can also send payouts to go to your own crypto wallet. CoinPayments fee starts at 0.5% per transaction.
OpenCart Bitcoin payment gateway: TripleA is the official OpenCart crypto payment gateway. Another OpenCart cryptocurrency payment gateway is SpectroCoin.
Coinbase Commerce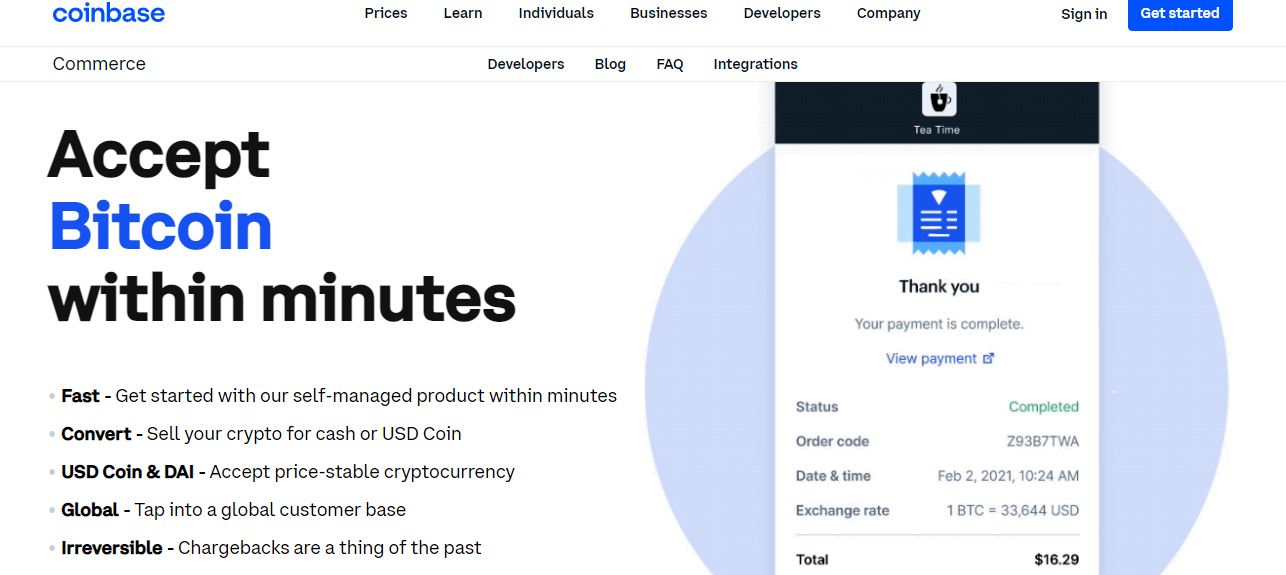 Coinbase Commerce is a cryptocurrency payment gateway which enables you to accept Bitcoin and a number of altcoins. The service is offered by Coinbase, a cryptocurrency exchange and wallet.
As a Coinbase Commerce client, you will get the following features.
Crypto invoicing
Multi-currency
No limits
Conversions to fiat or stablecoin
Webhooks for charges
Customized payment buttons
Hosted checkout pages
Coinbase Commerce does not charge any fees in order to use Coinbase Commerce. However, in order to withdraw any cryptos you have received, you will need to pay a network fee to cryptocurrency miners. If you would like to convert your cryptocurrency into fiat, an exchange may charge fees. Withdrawal fees for Bitcoin tend to be $1.00-$5.00 and fees for other currencies tend to be under $1.00.
At this time, Coinbase Commerce is a cryptocurrency-only service, meaning we do not support fiat conversion or withdrawing fiat to a bank account. If you would like to convert cryptocurrency that you have received into fiat and withdraw this fiat to your bank account, you can do so by withdrawing accepted cryptocurrency to a cryptocurrency exchange of your choice, and converting your cryptocurrency and withdrawing to a bank account from the exchange.
NowPayments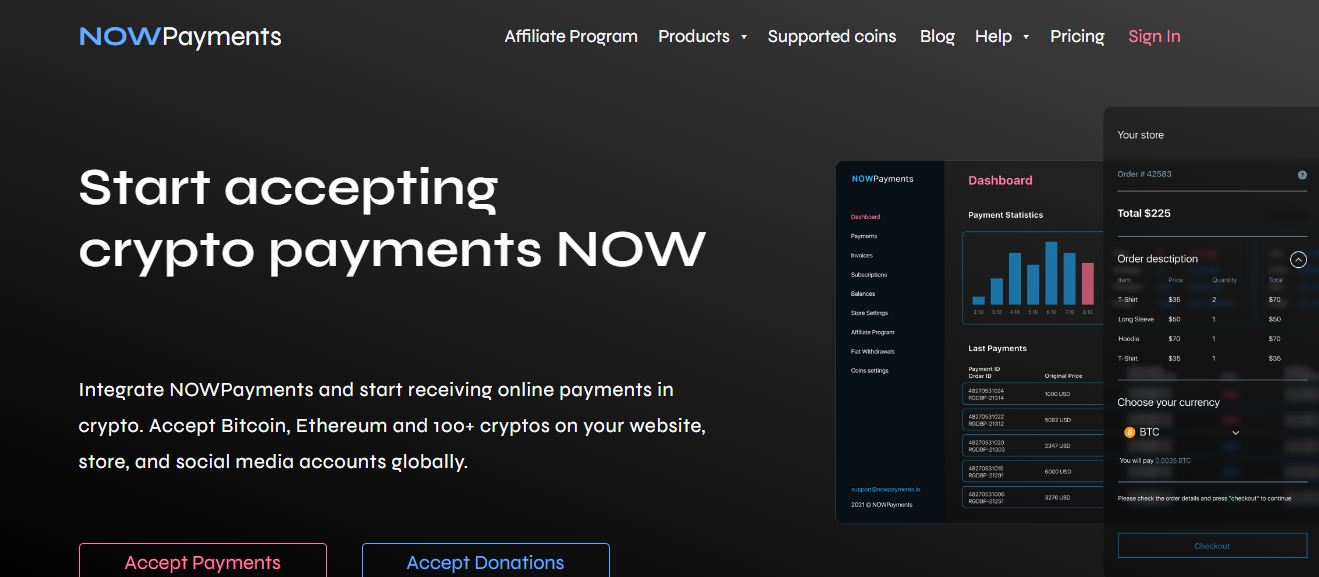 NowPayments is a crypto payment gateway that allows small businesses and freelancers to accept payments in Bitcoin and other over 50 altcoins directly into your own wallet at a fee starting from 0.4%. NowPayments can easily integrate into major CMS solutions like WooCommerce, Magento 2, Zencart, OpenCart, and WHMCS. Furthermore, its API allows customers to make several payments for one order, meaning they can pay a part in Bitcoin, a part in altcoin.
NowPayments invoice is a little box where all the necessary information about the invoice payment is collected: your payout address, the currency, and the sum. If your customer is shopping on a computer and uses a desktop wallet, they will only need to copy and paste the following information into their crypto wallet. If they use a mobile crypto wallet, scanning the QR code will bring them into their wallet, and the Bitcoin payment address will paste automatically.
Despite being a crypto payment gateway, NowPayments allows your customers to pay with the payment method they're used to, the platform will automatically convert it into crypto and send it to your wallet. When charging your customers in crypto, you can settle payments in fiat through SEPA transfers to your bank account.
NowPayments operates globally except Cuba, Iran, Russia, North Korea, Crimea, Sudan, Syria, United States of America (including all USA territories like Puerto Rico, American Samoa, Guam, Northern Mariana Island, and the US Virgin Islands (St. Croix, St. John and St. Thomas)), Bangladesh, Hong Kong and Bolivia, along with any other country subject to United Nations Security Council Sanctions List.
Further information on Crypto Payment Processors and Gateways
Crypto payments are a great way to create new customer base and boost revenue for your business. They are even better for if you want to conduct your business in Bitcoin. By using crypto payment providers, you will enjoy benefits such as fast transactions, low fees, security and minimal or no chargeback fraud. If you stay withing the crypto ecosystem, your fees can even be lower and even better, there is no middleman!
For more information, also check out this awesome list of bitcoin and crypto payment processors.