ICO's can be a great way to get money for a new project. Investing in them is not such a great idea though. Most ICO's turn out be a scam. While many have made good money from setting up these ICO scams, even more people lost their money by investing in them.
ICO's, Cryptocoins and Blockchain
The blockchain industry has gained a lot of prominence after the launch of Bitcoin in 2009. The industry has seen the launch of more than 2500 cryptocurrencies. It has also been embraced by large companies like IBM, which is now building blockchain solutions. JP Morgan too has jumped into the bandwagon and Facebook is said to be creating its own cryptocurrencies.
As the industry has advanced, it has also led to the development of new processes that aim to disrupt the traditional systems. One area that is being disrupted is on fundraising for companies. Today, companies that want to go public deal with regulators and investment bankers. They submit various audited documents such as the so-called S1. They also visit some of the investors, to explain their business to them, in a process known as a roadshow. They do all this to ensure that investors have a good idea about their companies.
What is an ICO
To disrupt the IPO process, developers in the blockchain sector have come up with a new method known as Initial Coin Offerings (ICO). An ICO is a method where developers raise funds by selling tokens of their companies. For example, assume that you are an inventor, who is creating a new cryptocurrency. Let us call it NextCoin.
To raise the funds for the coins, you can easily go to a bank and raise the funds. However, this will attract interest rates. Alternatively, you can approach the venture capitalists to fund you. Stil, these will need a stake in your company. This is where ICOs come in. With an ICO, people from around the world can fund your project through Ethereums, Bitcoins, or fiat currencies. In return, they will get tokens of the NextCoin. They will generate a return on investment when the value of the coins move up. In total, billions of dollars have been raised through ICOs. The biggest one was EOS, which raised more than $4.1 billion. Still, there are a few reasons why one should never invest in an ICO.
An ICO is easy to do
First, it is very easy to run an ICO. All you need is a website and some money to market it. Creating a good ICO website is a process that can take less than a day. After creating the website, you need to explain to the users why they need to buy the tokens.
The best way to do this is through a document known as a White Paper. If you can't write the white paper yourself, you can have a freelancer do it for you. For example, the screenshot below is from Upwork, where an ICO owner is ready to pay $100 for a white paper.
Rife with scams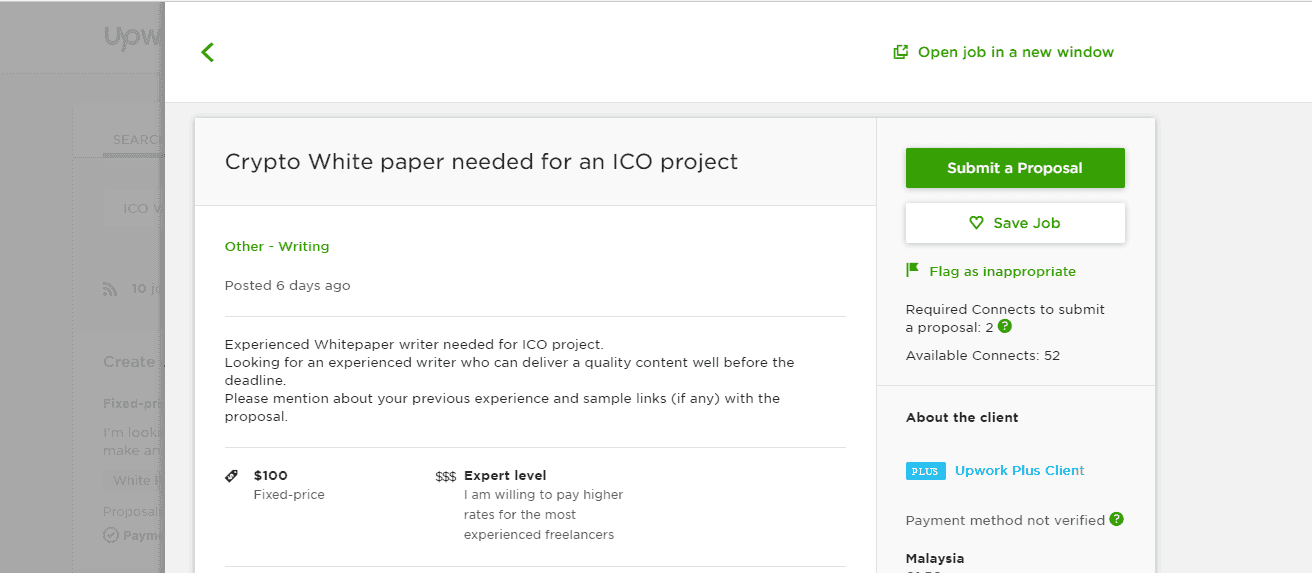 Since creating an ICO is very easy, the industry is filled with scammers. In fact, most of the people behind the ICOs are not known. Even the photos in the white papers tend to be stock photos downloaded from the internet. Their names are usually not real. The reason for all of this is that the industry has lax regulations. For example, as explained above, when real companies are having their IPOs, they are required to offer a lot of details to the investors. In ICOs, this is not the case.
A good example of how gullible investors can be is in the Useless Ethereum Token, which raised more than $50K. Its owners had stated clearly that they were going to use the funds to 'buy a big television'.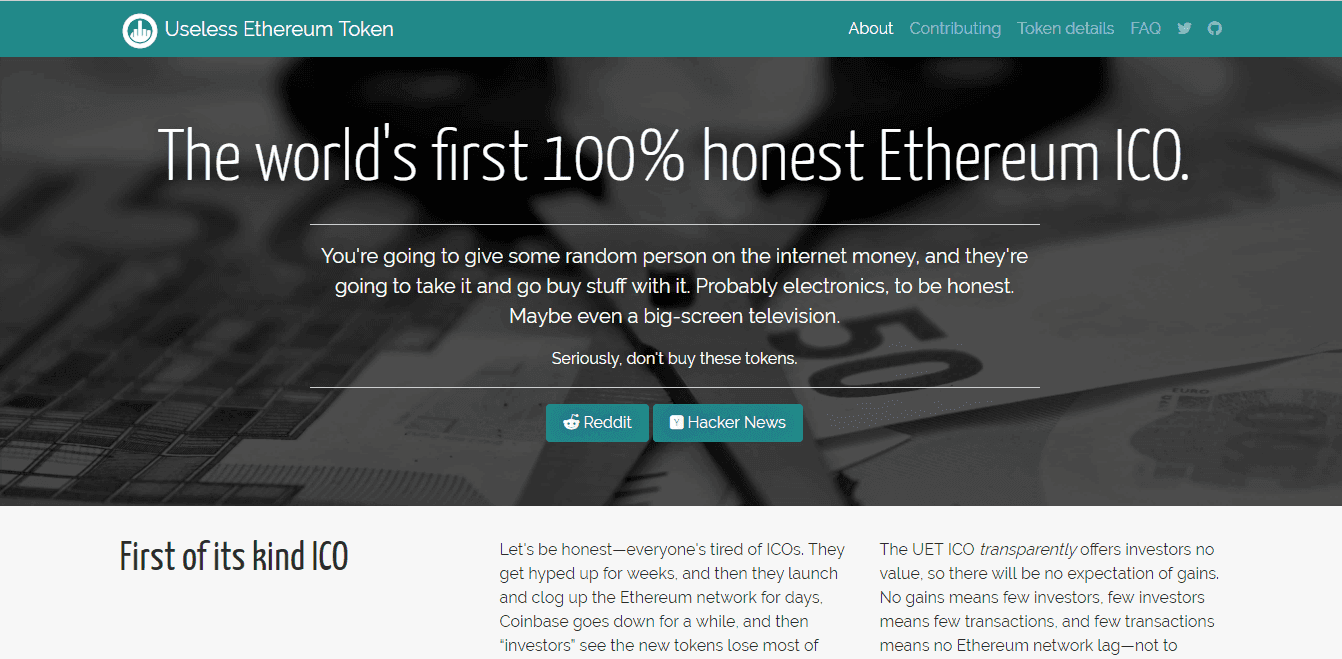 In fact, according to the SEC:
While some ICOs may be attempts at honest investment opportunities, many may be frauds, separating you from your hard-earned money with promises of guaranteed returns and future fortunes. They may also present substantial risks for loss or manipulation, including through hacking, with little recourse for victims after the fact.
The SEC also created its own coin, to showcase how easy it is for people to get scammed.
ICOs Could Be Illegal in the United States

A common thing that most investors are not aware of is that ICOs could be illegal in the United States. According to the Securities and Exchange Commission (SEC), ICOs are securities offerings, which means that they must abide by all the rules that pertain to securities. Also, all ICOs must be registered with the SEC. This means that the people who run ICOs in the United States without following the right procedures could be arrested and charged.
So, should you invest in ICOs?
As explained above, most ICOs are scams. In fact, research has found that more than 80% of them are scams that rip people-off.  I believe the number is much higher than that.
Therefore, it is unwise to invest in an ICO regardless of how good the presentation is. If you do, the reality is that you are giving a person you don't know money in exchange of useless tokens that can't help you at all. Also, you are investing in something that is unproven and one that is not making money at all.
Instead of investing in these get-rich-quick schemes, you should consider investing in assets like stocks that have a long track-record of generating solid returns to investors. For example, if you invested in $1000 in Facebook when it went public, your investment would be worth more than $3,800. Similarly, if you had invested $10,000 in the Nasdaq index five years ago, your investment would be almost double. Also, you could consider investing in tangible things like crude oil, copper, and bonds.
Final Thoughts
Why would you invest in a product you have never used and one that is being promoted by people you don't know? Regardless of how appealing the offer is, you should avoid investing in these products. If you focus on investing in quality stocks and index funds, you will see the value of your investments continue to go up. Once the investment reaches your target, you will exit easily because of the market demand and the liquidity they have.
If you must invest in crypto, go for Bitcoin. Forget about everything else, and just buy bitcoin and hold it for at least 5 years. Do not trade. Just buy, hold (HODL) and be patient. If you're able to, get 1 whole BTC. If not, just keep accummulating so called satoshis. You will not regret this decision (unlike buying into ICOs).
Read more