You already know about Bitcoin, that digital currency started after the 2008/9 financial crisis. You also know that Bitcoin reached a high of $20,000 in 2017 and declined to below $3000 in 2018. What you might not be aware of is that Bitcoin's new bull-run is already here. Year-to-date, Bitcoin has gained by 65%, making it one of the best-performing assets in the financial market. In fact, some analysts are predicting that the price could top $10,000 this year. Here is a guide on the best apps to use to invest in Bitcoin in the United States.

Why Invest in Bitcoin?
While the price of Bitcoin has dropped sharply from its all-time high of $20,000, it remains the best assets in the past five years. The chart below shows how Bitcoin has performed versus the S&P 500 and Nasdaq indices.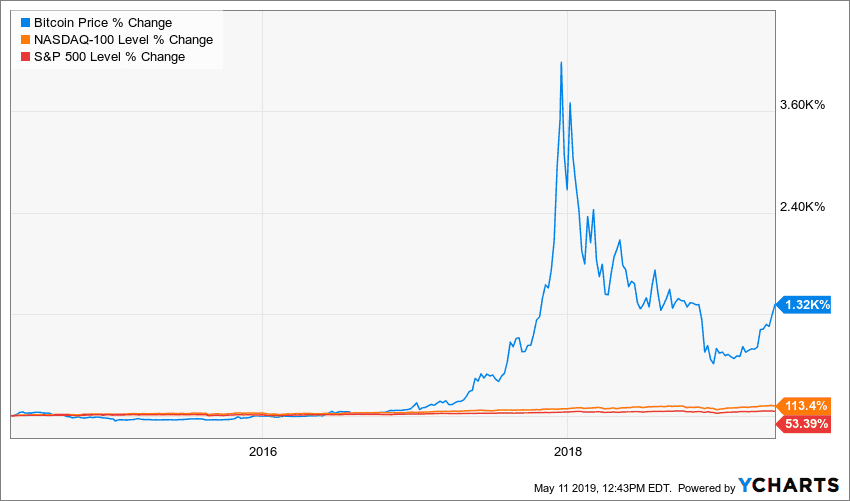 Source: YCharts
This chart shows that while the two indices have risen by 113% and 53%, Bitcoin has gained by more than 1300%. However, in the past one year, it has underperformed the market by declining by 24%. Other than its historical performance, there are other reasons you can consider investing in Bitcoin. These are:
If you believe that it is undervalued.
If you believe that it is a store of value like gold.
If you believe that it is the future of money.
If you believe that the currency is becoming mainstream.
If you believe that a Bitcoin ETF will be accepted soon.
Using Robinhood to Invest in Bitcoin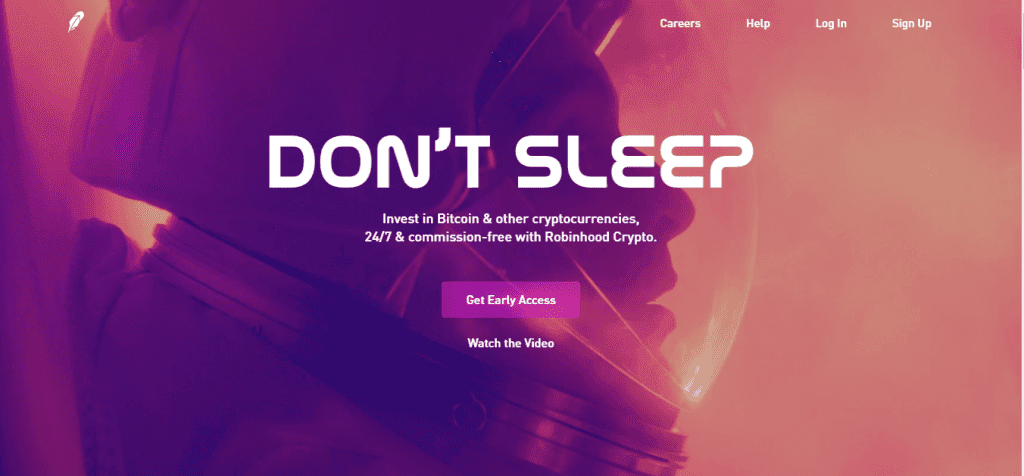 Source: Robinhood
The easiest platform to invest in Bitcoin is Robinhood. For starters, this is a company that was started in 2013 and is currently valued at more than $5.9 billion. The company's claim to fame is that it does not have commissions. To do this, you need to go to the website or download their app, provide a few details about yourself, deposit money, and start investing immediately. Your trades will not have any commission. Here are a few benefits of investing in Bitcoin using Robinhood.
Easy to use platform.
Easy to deposit and withdraw funds.
Invest in other asset classes using the same app.
Secure.
Using Cash App to Invest in Bitcoins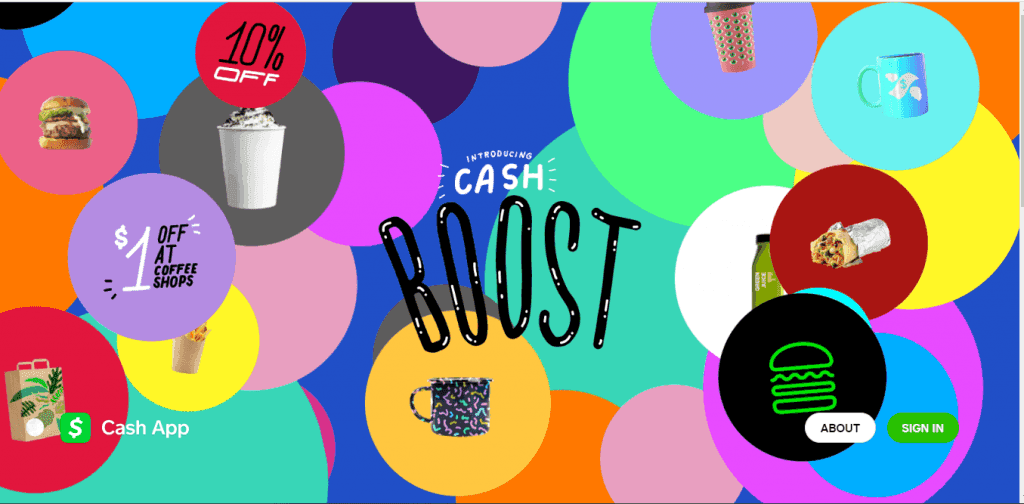 Source: Cash App
Cash App is a relatively new app that is becoming very popular in the country. Owned by Square, the app is a viable alternative to Venmo, which is owned by Paypal. It is used by more than 15 milion Americans.
While the overall purpose of Cash App is to enable peer-to-peer lending, it recently introduced the service that allows people to buy, sell, and share Bitcoins.
To use it, all you need to do is to create an account, deposit money, and then buy the Bitcoins. Here are a few reasons why you might consider Cash App.
It is becoming the most popular money transfer company in the country.
It is owned by a reputable company with a market cap of more than $22 billion.
It is easy to use.
It does not charge any commissions.
CoinBase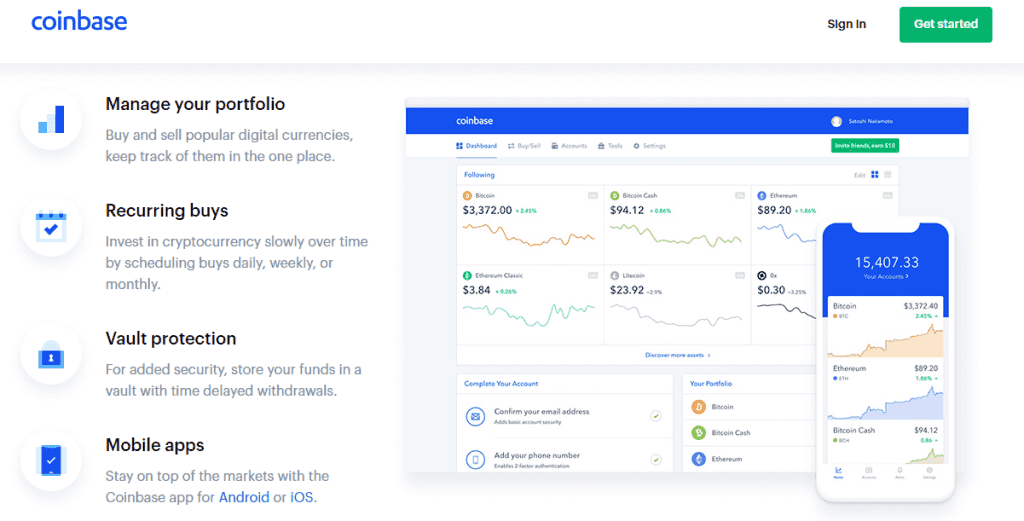 Source: CoinBase
Coinbase is the world's largest Bitcoin exchange. Since its founding, the company has raised more than $500 million in funding and is currently valued at more than $8 billion. The company allows anyone to buy, sell, and invest in Bitcoin and other cryptocurrencies easily. To do this, all you need to do is to create an account, deposit money, and buy the coins.
CoinBase stores your coins in both cold and hot storage. A cold storage is usually offline and usually not accessible by hackers. The company also allows you to learn aboutother cryptocurrencies and earn money from it. There are a number of benefits of using CoinBase.
It is the largest crypto exchange in the world.
It is well-funded, which enables it to fund for security.
You can invest in bitcoin slowly over time using the Recurring Buys service.
You can manage your portfolio easily.
Advanced charting capabilities.
Gemini for Bitcoin Investing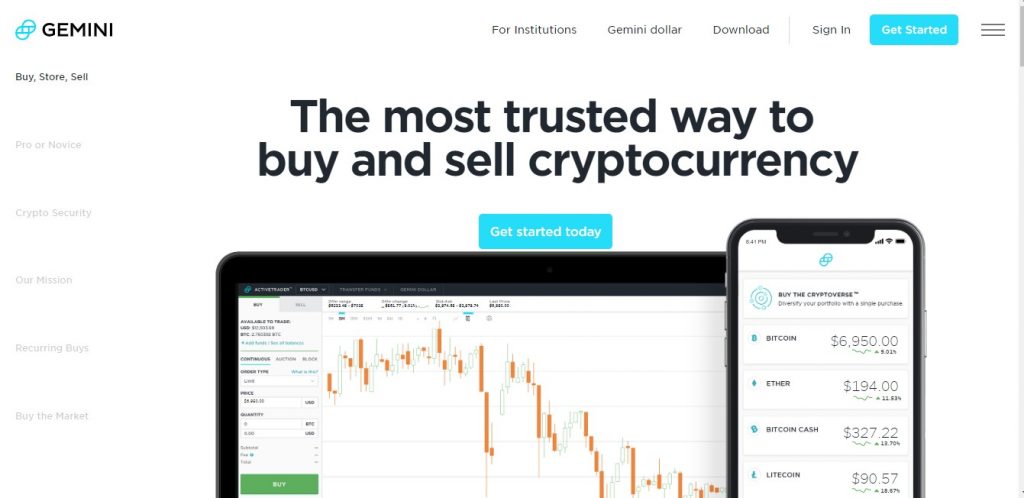 Like Coinbase, Gemini is a cryptocurrencies broker based in the US. The company provides these services to both institutional and individual investors. The company is owned by the famous Winklevoss twins. To use their platform, all you need to do is create an account, deposit funds, and then start trading. Their benefits are:
A well-funded platform.
Easy to deposit and withdraw funds.
Quality charting platforms.
Invest in Bitcoin and other currencies.
Conclusion
In the US, there are many other online platforms that can help you buy and invest in Bitcoin. However, these are the most secure and well-funded platforms. Also, before you invest in Bitcoin, you need to be aware of a few things. First, it is one of the most volatile assets, which means that its price can rise and fall sharply within minutes. Second, only use credible platforms to avoid losing money. Finally, invest only a small portion of your funds to Bitcoin.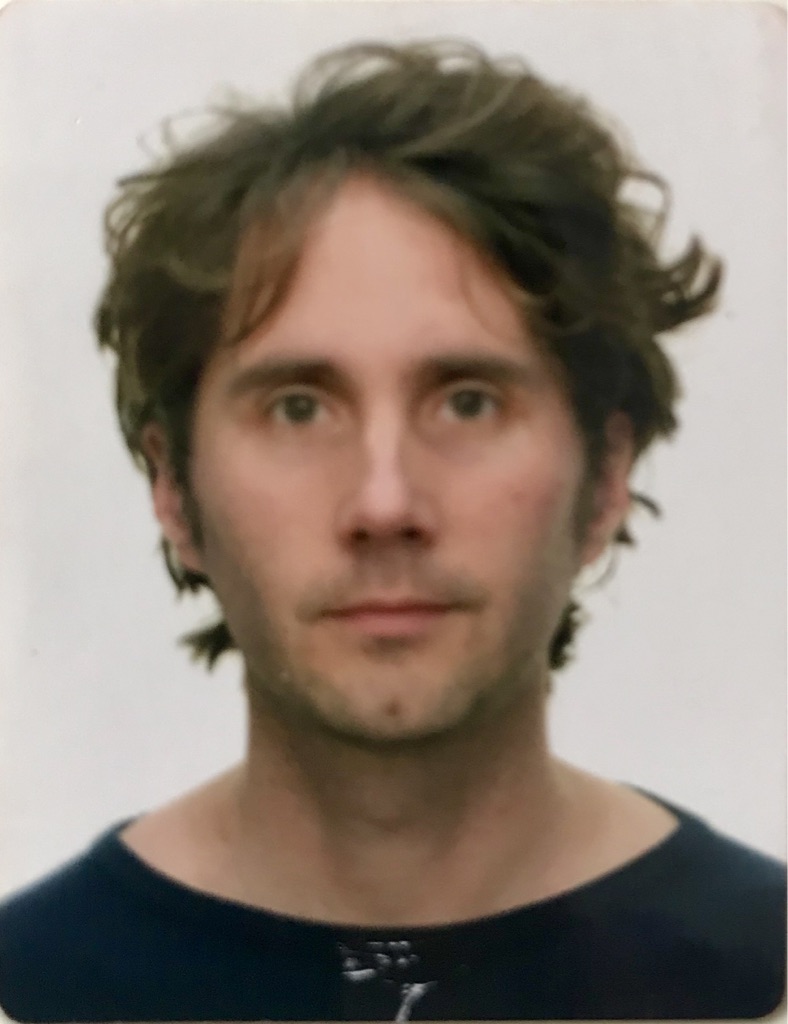 Kasper is our expert for saving, investing and bank accounts. Kasper holds an MSc in Mathematics and worked with Mercedes-Benz and the Dutch tax authorities. Read more about Kasper and the whole editorial team at FiFi and our editorial guidelines.