If you have a business, it is important to separate personal finances from business finances. You need to find the best banks for business accounts. Before opening a business account, you need to first decide what type of business account you want to open. This will be determined by the purpose of the account. In this article, we are going to focus on best banks to use for business accounts.
What is a Business Account?
A business account is an account belonging to a business that allows business owners to separate business transactions from their personal finances. A business account allows your business to receive payments, purchase assets, pay bills, save money, apply for a loan, etc. For the smooth running of a business, the business owner needs to find the best bank account that suits business needs.
Types of Bank Accounts for Business
The following are the different types of business accounts you can open depending on your business needs.
1. Business Checking Account
The business checking account is the most common business bank account. It is from this account that bills are paid, and payroll is deducted. This type of account helps businesses track all their cash transactions. Money in this account is used for day to day operations of a business.
2. Business Savings Account
A business savings account helps a business earn interest on deposits. If your business has extra cash to invest, you can put into a business savings account. It will be accruing interest over time. Money that is not needed in day to day running of a business can be put into a savings account.
3. Payroll Account
A payroll account, as the name suggests is a business bank account that is used to process payroll expenses like employees' salaries. Money from the business checking account is moved to the payroll account and then paid to employees. It makes it easy to trace salary payments and payment of taxes.
4. Merchant Account
A merchant account helps a business receive payments from its customers. With a merchant account, a company is able to process payments, be it online transaction or on-site card transactions. To open such a bank account, the business must get into a contract with a merchant acquiring bank.
Business Bank Account Requirements
To open a business account, you need to meet the following requirements:
Business registration documents. Banks need to ensure that the business is legally registered.
Personal identification. You need to provide identification documents like an ID for the directors.
Proof of residence. A bank needs to open a bank account for someone who belongs to a particular country.
Details of those authorized to access the account. A business needs to provide the details of the people who can access the account.
What Credit Score is Needed for Business Account?
You can open a business bank account with bad credit or no credit history. Business bank accounts for bad credit are meant to help businesses manage their finances even when they have poor credit scores. It is also possible to open a business bank account without a credit check. However, such accounts don't offer services like overdrafts and interest.
In case your business will require a business loan, then you need to have a credit history. Every loan and lending institution will require a varying minimum credit score to consider your eligibility. In most cases, to qualify for a business loan, your business needs to have a credit score of between 640 and 700.
Best Banks for Business Accounts
If you have a small business, you could be wondering, which bank is best for a business account. For some banks, it is easy to open a business account online. The following is a list of good banks you can consider using to open a business account.
Neat Commerce (Best Business Bank Account in Hong Kong)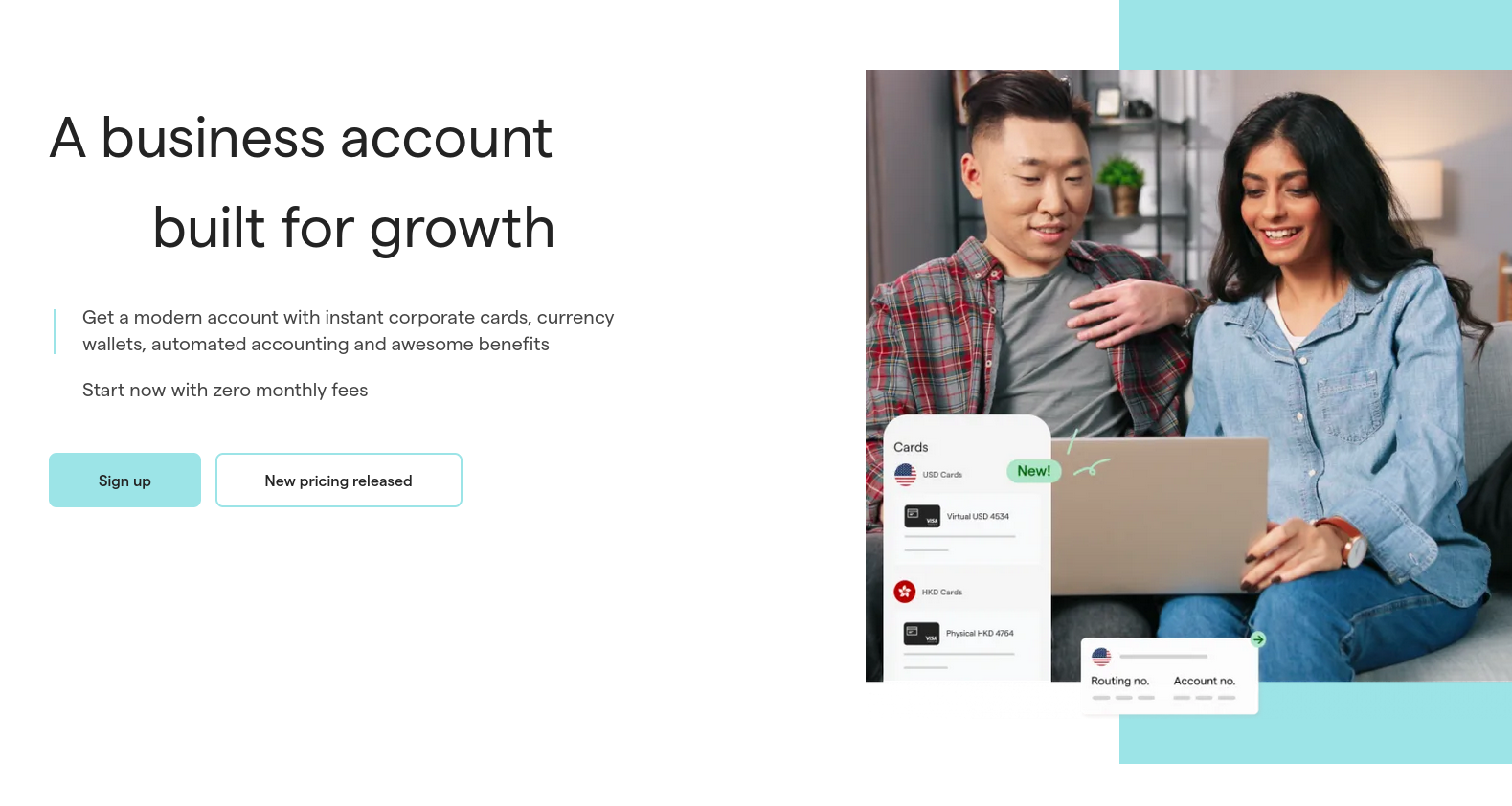 Neat Commerce is a good business account for eCommerce and startups. It is based in Hong Kong and allows you to create multi-currency business wallets in HKD Euro, USD, and GBP. You can use their business bank account to make and receive SEPA payments, manage your cash flow and save money. It offers both physical and virtual Visa corporate business cards. You can use it to integrate eCommerce platforms like Amazon and Shopify. It does not charge monthly commission fees.
Neat business account is available to companies incorporate in the following countries: Australia, Hong Kong, India, New Zealand, Singapore, Cayman Islands, and The British Virgin Island. If you are not based in Hong Kong, you can use Neat to register your company in Hong Kong and get a business account in Hong Kong.
Neat Commerce Fees
Fees to be expected from Neat include the following.
International payments – $12
Foreign merchant fee – 1.5%
ATM withdrawal fee – 2%
Transfer from Neat wallet to bank account – $8
which banks offer Zelle for business accounts In order to use Zelle with your business account, your bank or credit union must currently offer Zelle for your business account type. Here are some of the banks that offer Zelle for business accounts: including Bank of America, Chase, Citibank, Huntington Bank, PNC Bank, Regions Bank, TD Bank, U.S. Bank, and Wells Fargo.
BankProv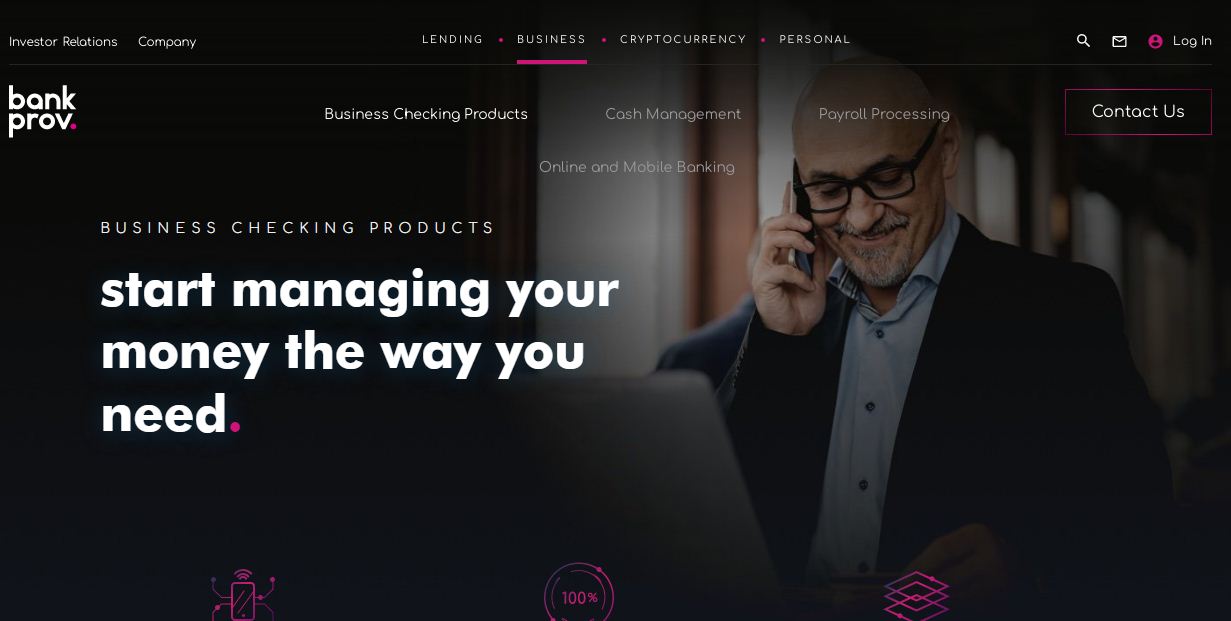 BankProv offers excellent business checking accounts for small businesses in the US. It is crypto-friendly bank and comes with cash management features like a business credit card, remote deposit capture, bitcoin ATM support and banking API. You can waive monthly maintenance fees for its business checking account by maintaining a minimum balance of $250,000. Customer deposits are insured by FDIC. BankProv mainly supports American residents.
BankProv Fees
Fees to be expected include:
Incoming wires – $10
Outgoing wires (Domestic) – $25
Outgoing wires (International) – $35
Non BankProv ATM – $2 per transaction
Wise Business Account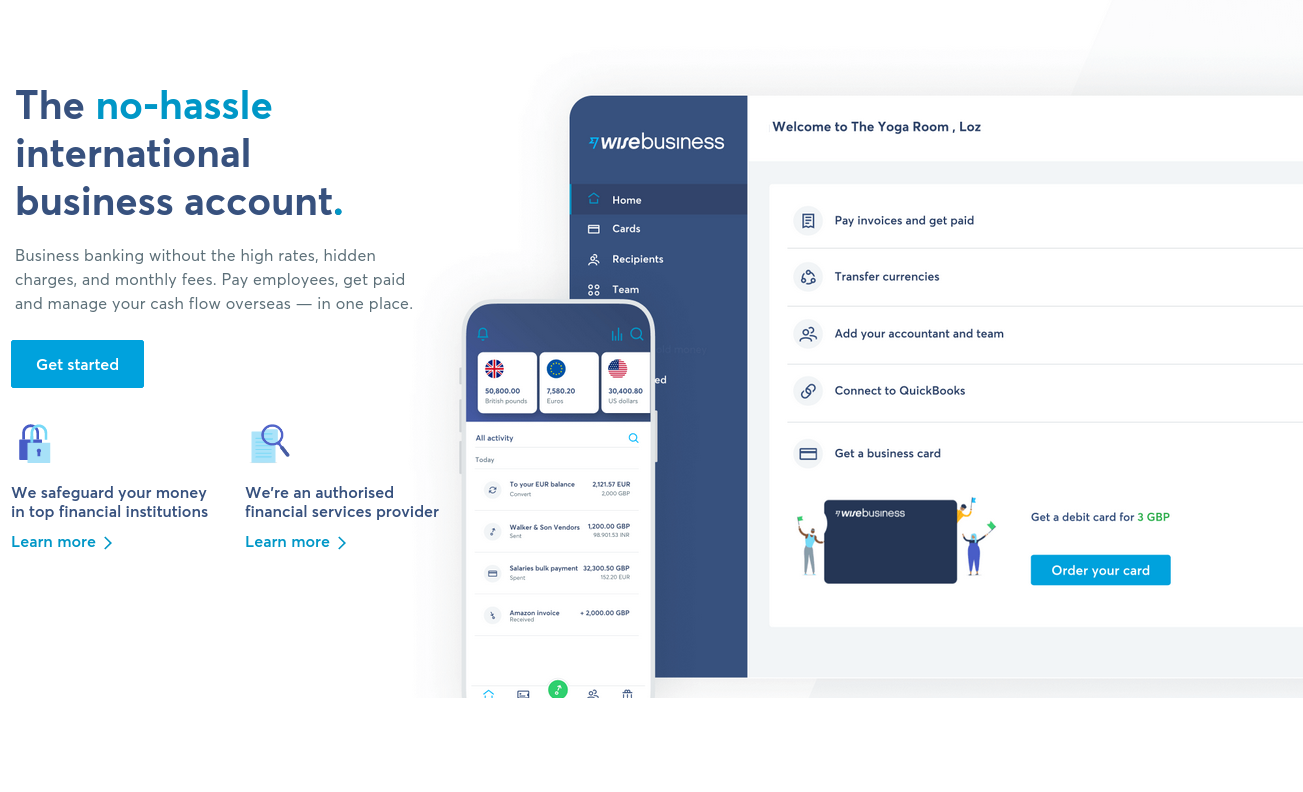 If you want to open a business account online, consider Wise Business Account. It has excellent features like multicurrency accounts allowing your business take part in cross-border transactions, Euro IBAN and SEPA instant transfer. Wise Business allows you to get local bank details for 10 different currencies to transact like a local. Available currencies include USD, GBP, EUR, JPY and AUD. It is also an excellent business bank account for non-US residents. With Wise, you can open a business bank account for LLC, sole proprietor, etc.
Wise supports most of the countries around the world like the U.S, UK, Canada, Singapore and EU countries. It is only a few countries it does not support like Somalia, Afghanistan, Belarus, Russia, etc.
Wise Fees
Fees that you will be charged will include:
Currency conversion 0.33% – 3.56%
Getting account details – £16 onetime fee
Replacing a debit card – £3
Holding more than 15,000 balance – €0.40% annually
Revolut Business Account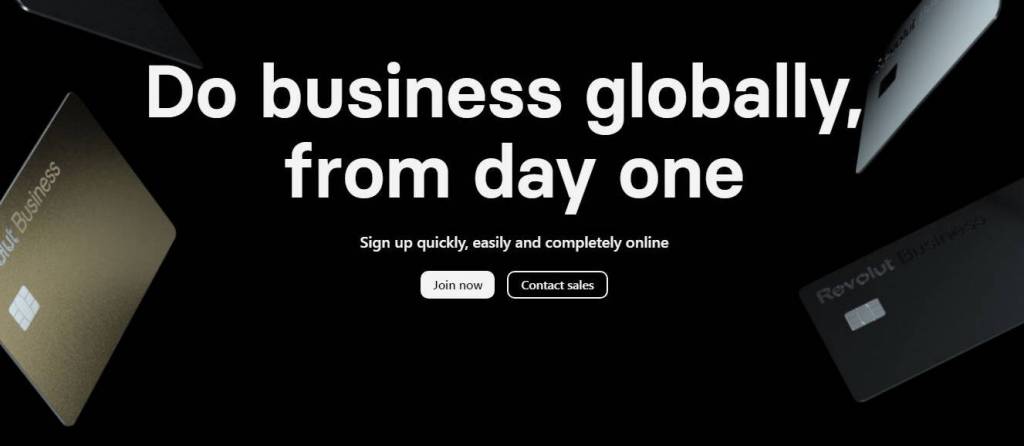 Revolut is also a good online bank business account. You can hold over 28 currencies and spend in over 150 currencies. You can use the account to make payments, direct debits and outgoing transfers. You also get a multicurrency account with local details in USD and GBP. It is one of the best business bank account UK.
Revolut currently supports only legal residents of the European Economic Area (EEA), Switzerland, Japan, Australia, Singapore, the United Kingdom and the United States.
Revolut Fees
Basic plan – No fee
Grow account – £25 per month
Scale – £100
Enterprise – Custom
N26 Business Account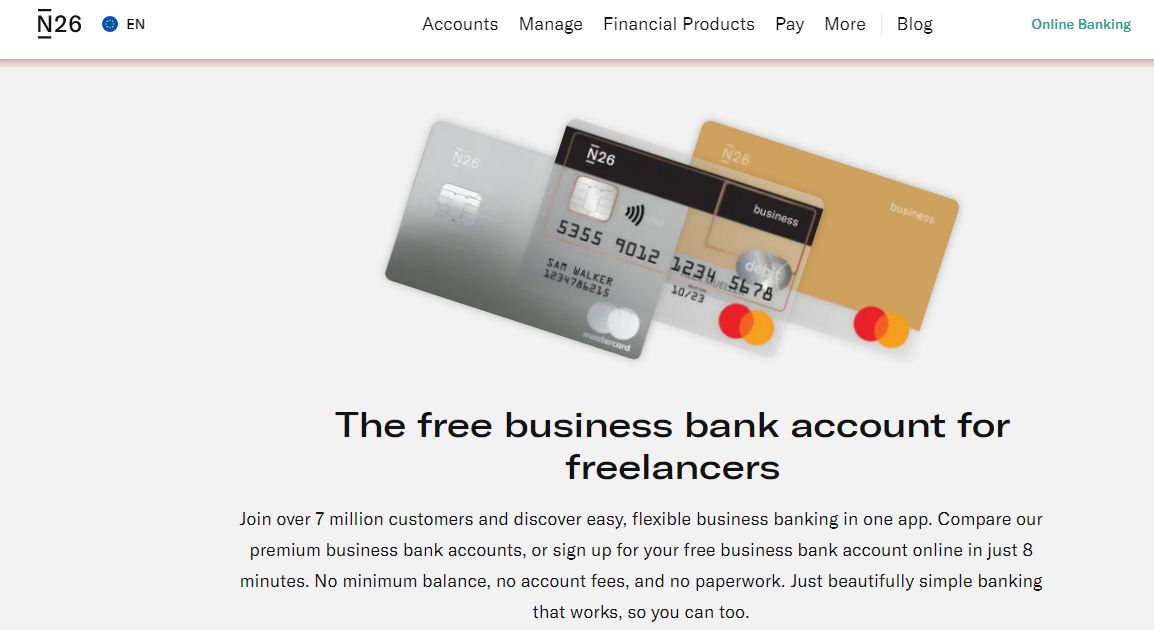 N26 is also an excellent business account that comes with travel insurance for self-employed and freelancers. It offers 0.1% cashback on all card purchases. You can use the N26 app to track and manage your business finances.
N26 supports the following countries Austria, Belgium, Denmark, the Netherlands, Norway, Poland, Portugal, Slovakia, Estonia, Finland, France (not available for residents in the DOM/TOM), Germany, Greece, Iceland, Ireland, Italy, Liechtenstein, Luxembourg, Slovenia, Spain, Sweden and Switzerland.
N26 Fees
N26 Business Standard Account – Free
N26 Business Smart – €4.90/Month
N26 Business You – €9.90/Month
N26 Business Metal – €16.90/Month
Mercury (Best Business Checking Account for Ecommerce in US)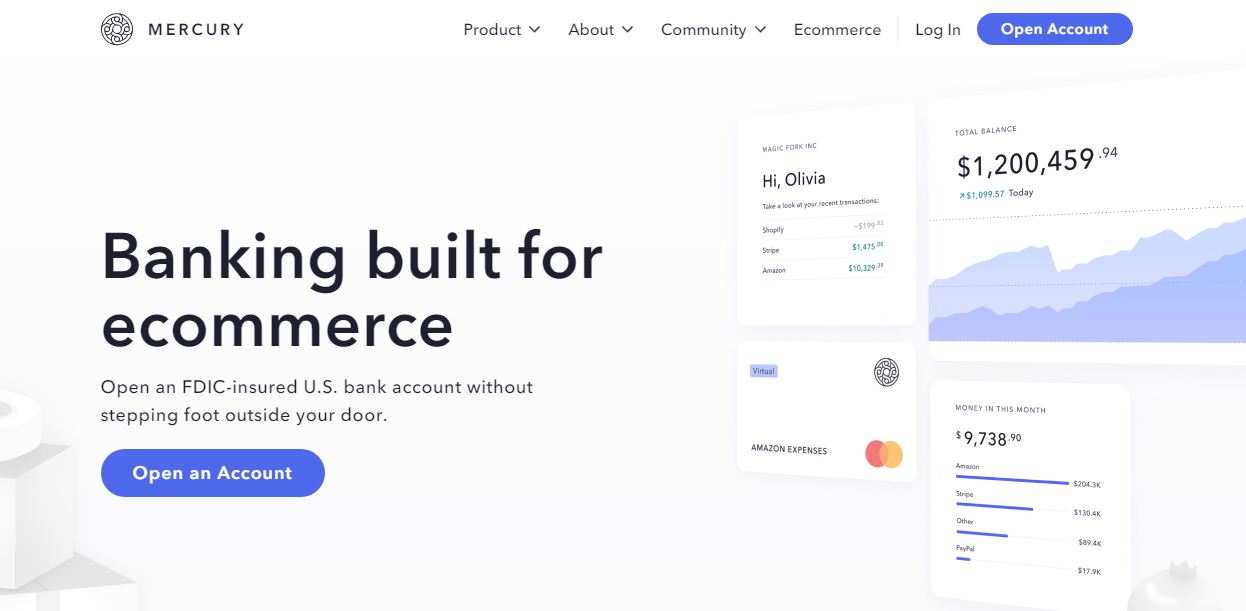 Mercury is an American fintech that offers one of the best business bank accounts for small businesses in the US, including for ecommerce business account, startups, and Web3 companies. It is one of the best business bank account US. It was formed and registered in the U.S. It offers business savings accounts, business checking accounts, and payment services. You can integrate it with Amazon, Shopify, PayPal, and Stripe. Your business deposits are insured for up to $250,000 by Federal Deposit Insurance Corp. You should note that it does not offer a business bank account for a sole proprietor.
Mercury supports U.S.-incorporated companies including those founded by people who are not US residents. You can apply for a business account in the US without needing to visit the U.S. However, it does not open accounts for founders living Belarus, Burundi, Central African Republic, Cuba, Democratic Republic of the Congo, Iran, Iraq, Lebanon, Liberia, Libya, Nicaragua, North Korea, Russia, Somalia, South Sudan, Sudan, Syria, Venezuela, Yemen, and Zimbabwe.
Mercury Fees
Mercury doesn't charge fees for anything except for specific advanced features such as mass payments using their API, treasury management, and non-USD currency exchange.
Non-USD currency exchange – 1%
Mercury Treasury – up to 0.814% interest annually (on idle funds)
No account opening fees
No account minimums
No overdraft fees
No monthly fees
Axos Business Checking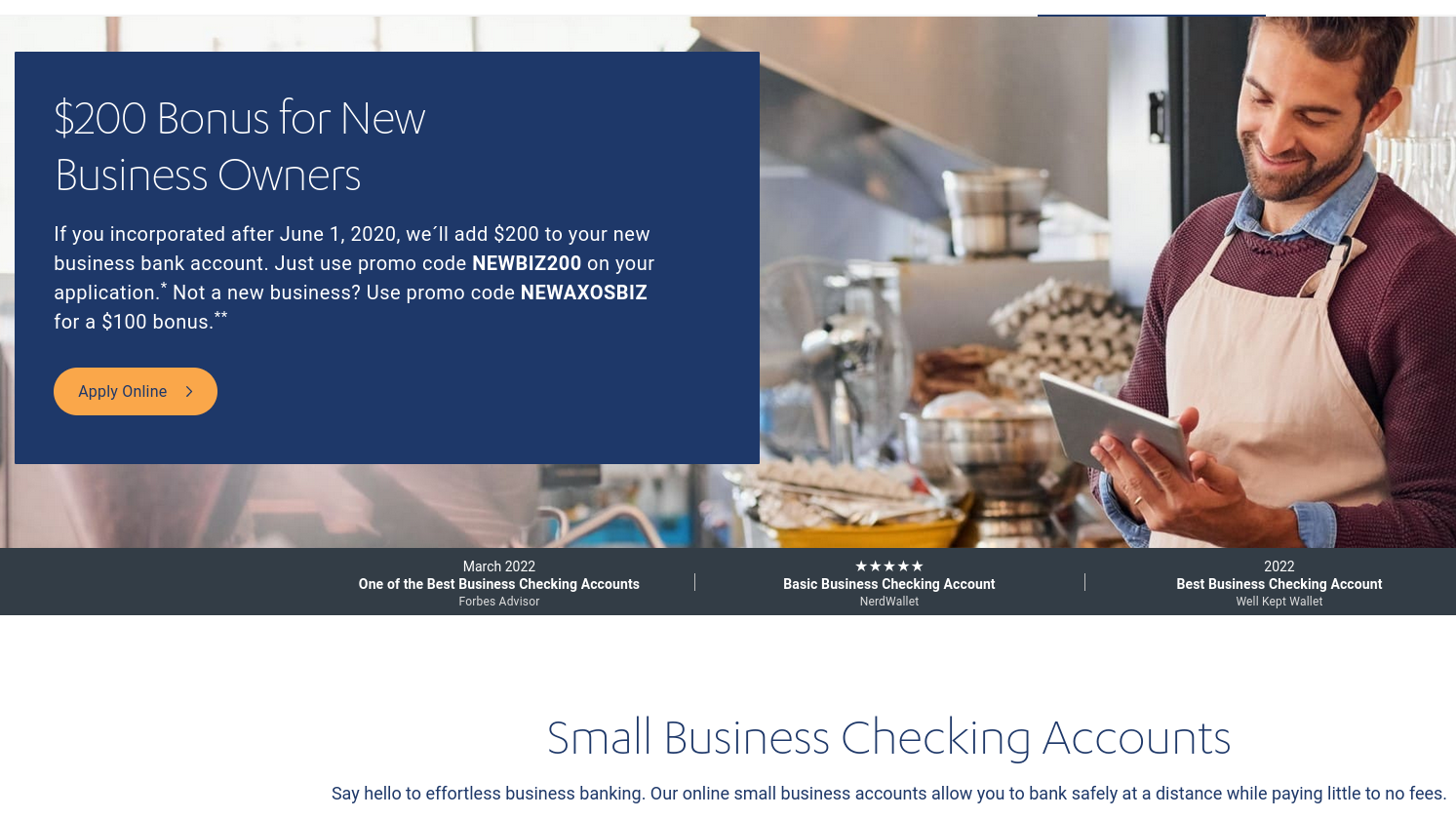 If you incorporated after June 1, 2020, Axos will add $200 to your new business bank account. You need to use promo code NEWBIZ200 on your application. If you are not a new business, use promo code NEWAXOSBIZ for a $100 bonus.
Axos Business Checking is one of the best business bank account in US for small businesses. It also offers commercial banking and lending solutions for corporations, institutions, governments, and real estate investors. You can use their mobile app to view and manage your account balance and automate your bills. You can integrate the account with QuickBooks. It is among the best business bank account with no fees. Axos supports mainly the American residents. Axos is FDIC-insured bank.
Axos Fees
While Axos offers many free products, you should know that there's a minimum opening deposit of $1,000. You will also get free transactions up to 200 per month, then $.30 per item will be charged.
Monthly maintenance fee for Analyzed Business Checking (businesses with high volume of transactions) – $15.00
No monthly fees
No minimum balance requirement
The first set of 50 checks is free, subsequent checks will have fees, which vary depending on the check design you choose

Other Banks for Business Accounts
In addition to the banks listed above, other alternatives for your business to open a bank account include the following.
Yan Bank
HSBC Online Business Banking
Pros and Cons of Business Account
Pros of Business Accounts
It helps you organize and separate personal finances from business finances
With a business bank account, it becomes very easy to pay taxes for your business
You are able to get a business loan if you have a business account in a particular bank
A small business account helps you accept cheques from your customers
Your business looks very professional and people can trust it if it has a business account
Cons of Business Accounts
There are many fees that apply for business checking accounts and not personal accounts
Business checking accounts are subject to the same FDIC insurance limitations
Choosing the Right Business Bank Account
Opening a business bank account is essential for separating personal and business finances. This will help you keep track of your business spending and income more easily. Additionally, business bank accounts can help you establish a credit history for your business and gain access to business loans. If your business has a poor credit score, you can open a business account with no credit checks. However, you will not be able to access overdraft facilities.
When searching for the ideal business account to manage your finances, prioritize those offering a combination of low fees, fast ACH/wire transfers, high daily spend/deposit limits, and exceptional customer service. Beware of hidden charges imposed by some banks if you fail to meet specific requirements, such as maintaining a minimum daily account balance. These penalties can negatively impact your cash flow and overall financial management.