Strike is a non-custodial platform that uses Bitcoin lightning network and USD instant payments to enable you to make borderless payments, send and receive funds, pay for goods and services online, make micro-payments and tip content creators without paying any fees. You can also use the platform to buy and sell Bitcoin and convert your paycheck to Bitcoin.
Strike App Key Takeaways
You can pay yourself in Bitcoin with funds in your linked bank accounts. For example, you can convert fiat currency paycheck to Bitcoin without incurring any fees.
You can get your direct deposit, get paid in Bitcoin, buy Bitcoin, send and receive money with friends, spend your money with Apple Pay and Google Pay, and earn instant rewards while spending, all with no account opening or monthly fees.
The app uses the Bitcoin Lightning Network, enabling faster and cheaper transactions. Micropyaments, for instance, don't have to be costly or take hours to be confirmed.
What is Strike App?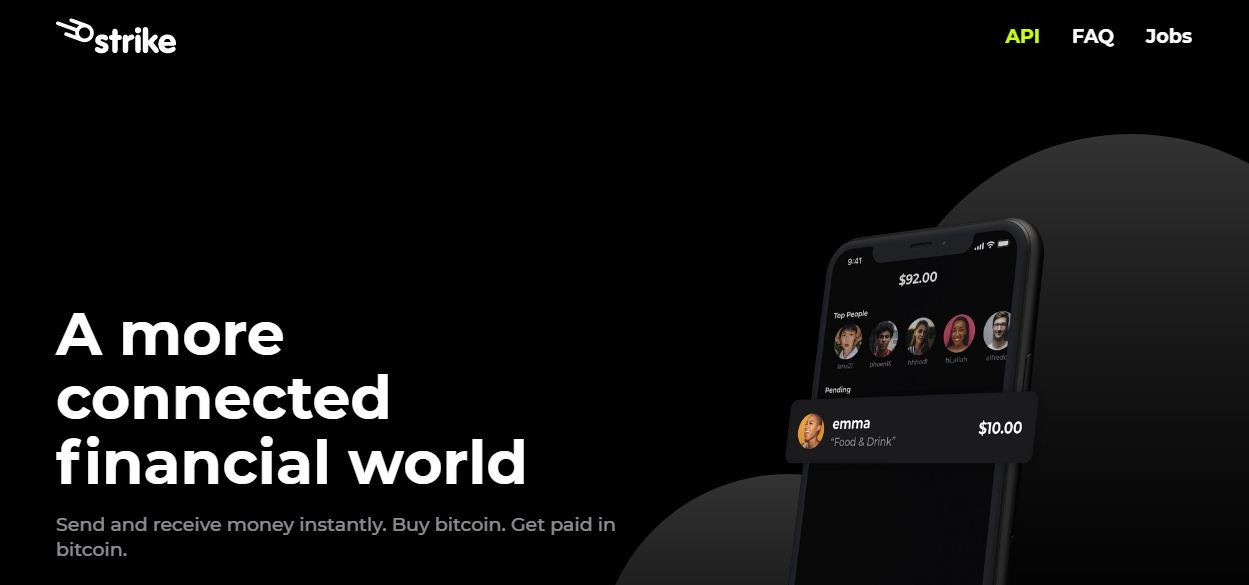 Strike is a payment app that can be used to send and receive instant and secure borderless payments using Bitcoin Lighting Network. The app does not charge any fees to make these transactions. You can use Strike to pay or send money to someone else, pay for goods and services online and also make micropayments.
Why does Strike use the Bitcoin Lightning Network?
Transactions conducted on Bitcoin Lightning Networks are faster, less costly, and more readily confirmed than those conducted directly on the Bitcoin blockchain. – Investopedia
Strike App Features
Join the waitlist for Strike debit card in your Strike app for early access as they begin rolling out the Strike Visa card to everyone.
If you are using Strike app, you get to enjoy lots of features free of charge. Some of the features you will get on Strike include:
QR code. If you want to make fast and secure payments, you can do so by just scanning a QR code. This way, you can make fast and secure payments.
Strike rewards card. Strike has partnered with VISA and offers rewards to users. Users can always earn cashback when they transact through partnered merchants using Strike Visa card.
Flexible funding. You can send funds to Strike from third party wallet by just crating a request in Strike. Once the transaction is complete, the user will have more fiat and less bitcoin in the wallet.
Lightning withdrawals. You can create an invoice from a third party Lighting wallet like Blue Wallet and then pay using Strike.
Micropayments. Users can transact small amounts of $0.01 transactions by scanning a QR code and then the transaction can go through.
Pay Me in Bitcoin. This is a feature that allows you to convert incoming income into your account to be converted into BTC using a routing number. This is possible for all Strike users, regardless of their employer.
Buy and sell Bitcoin. If you have funds in your account, you can buy Bitcoin on your dashboard. The platform supports Bitcoin investors who want to use Dollar Cost Averaging (DCA) method. You can also sell Bitcoin on the platform.
Strike API The API is a crypto payment gateway that allows marketplace and merchant businesses to accept Bitcoin payments.
Twitter uses Strike's API to allow its users to tip with Bitcoin and its users in USA, Argentina and El Salvador to accept Bitcoin tips into their accounts.
How to Sign Up on Strike App
To enjoy all these services, you need to have an account on Strike. To create a Strike account, you first need to install Strike App that is available on Play Store, Chrome Web Store and App Store. Then click the "Get Started" button and then you can enter personal details. You need to provide details like name, email, phone number and username. To sign up for a Strike account, you must be at least 18 years old.
How Strike App Works
Once you are have downloaded and signed up on Strike, you will need to provide additional personal details before linking your bank account. You will be redirected to the main menu where you can view your funds. The app does not store your Bitcoin, but only stores your USD. You need to provide additional personal details to verify your Strike account. You will be allowed to make a $100 deposit per week if you have met the minimum KYC and AML requirements.
After linking your bank account, you should be in a position to deposit funds into your Strike account. Once you have funds in the Strike account, you can exchange those funds for Bitcoin. You can create invoices from third party crypto wallets like Samourai. After that, you need to copy the Lighting Invoice and the click Send option in the Strike app. You can then paste the invoice in Strike.
Strike App Supported Countries
You can open and use Strike account if you are in Argentina, El Salvador and the United States apart from Hawaii, New York. The Strike Global will be available in more countries in the future. You can sign up for Strike early access.
Strike App Supported Currencies
At the moment, currencies supported on the Strike app are the United States dollar (USD) and Bitcoin (BTC).
Strike Payment Methods
Strike supports the following payment methods:
USD instant payments once you link Strike account with a bank account
Debit cards
Strike App Fees and Strike App Limits
Strike is free to use. However, to send payments to your Strike account, you will incur network fees at the current market rates. If you want to incur fewer charges, make sure to use Lighting invoices. Then, how does Strike app make money? One of the ways Strike app makes money is through its Strike debit Visa card. It makes money from interchange fees from Strike debit card transactions.
If you haven't verified your account, you can only make a maximum of $100 per deposit and a total maximum of $1,000 every week and $100 every payment.
For verified accounts, the maximum per deposit you can make is $1,000, $1,000 maximum total deposits per week and a maximum of $10,000 per payment.
Is Strike App Safe? Is Strike App cLegit?
Strike App is not a scam. It is a safe, legit and secure payment platform. Strike follows all security protocols to ensure that your funds and banking details are safe and secure. The platform works in partnership with Prime Trust, LLC, a state-regulated trust company, which holds your funds in custody.
However, Strike is faced with a few challenges in its private Lighting nodes, the main one being spamming Strike with micropayments. This Strike app spam is initiated to spam Strike's Lighting nodes with micropayments. The aim is to freeze the deposits being made. This challenge does not lead to loss of funds but makes the process congested.
The other challenge facing Strike is an eclipse attack, spam that creates multiple identities. This overwhelms the network and ends up isolating the victim from receiving accurate data from the network. Strike is working on these spams to improve the customer service experience.
If you are a person who is extra careful about your identity, you should know that you need to go through KYC verification process that involves revealing your real name and phone number.
Strike App Customer Service
Strike has reliable customer support and is reachable through email and phone. You can reach them by email at info@strike.co.uk or by Strike app customer service number at 0333 103 8390. You can also reach them via a chat on their website.
Strike App Alternatives
Summary of Strike App Review
If you are seeking to send and receive money instantly or get paid in Bitcoin, consider Strike. You are able to pay yourself in Bitcoin from your linked fiat currency bank account. With the app, you can easily buy Bitcoin and secure borderless payments and skip fees. Merchants can also connect their businesses to Strike instant payment networks. With that, merchants can accept payments from customers globally.