Bitcoin is gaining popularity in Tanzania, much like in other African countries such as Nigeria, Kenya, and South Africa. While Tanzanians show a keen interest in bitcoin, many remain unaware of reliable platforms for securely buying bitcoin within the country. In this guide, we will provide detailed instructions on how to buy cryptocurrencies, as well as recommend the best bitcoin wallet in Tanzania.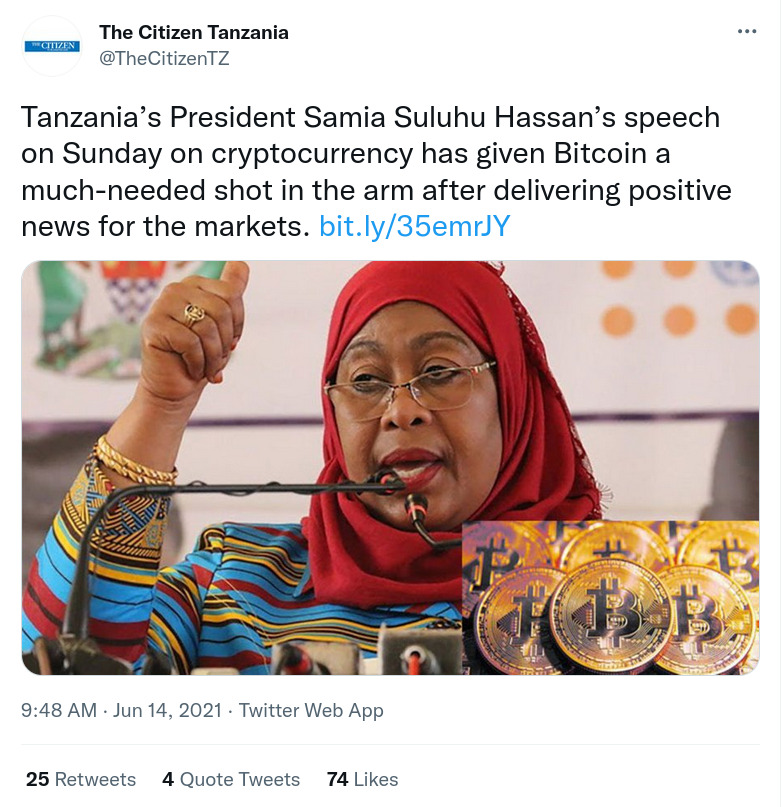 Bitcoin Dos and Don'ts
Trade or invest only in bitcoin as a long term investment. Altcoins are copy-cats, scams or simply nonsensical, avoid them.
Don't trade or invest into bitcoin more than you can afford or willing to lose. Generally, it is advisable not to invest more than 10% of your funds into bitcoin. We don't recommend day-trading or betting on crypto.
Only use self-custodial wallets to store your bitcoin. Don't keep your bitcoin on a crypto exchange after buying. Use cold wallet such as Trezor for long term investment. Always have safe backups for when your wallet gets lost.
How to Buy Bitcoin in Tanzania
Before you can buy crypto in Tanzania, you need the following.
A cryptocurrency exchange in Tanzania. A crypto exchange is a platform that allows its users to buy and sell cryptocurrencies. It is a cryptocurrency marketplace (or a cryptocurrency "shop"). A cryptocurrency exchange can be a local one or a global one with multi-currency support.
Payment method. The payment method you can use will depend on the supported payment options of the cryptocurrency exchange or the preferred method of the seller in the case of peer-to-peer exchanges. This can include mobile money such as Airtel Money, Mpesa, debit card, credit card, bank transfer, and more.
Crypto wallet. Cryptocurrencies are not physical currencies. Therefore, you need a secure crypto wallet to store your cryptos. Crypto wallets in Tanzania are of different types: mobile, web, desktop and hardware. Best bitcoin wallets in Tanzania include mobile wallets such as Samourai or a hardware wallet such as Trezor and Ledger.
Cryptocurrency scams are on the rise all over the world, including Tanzania. Don't entertain social media messages or emails asking you to "join bitcoin" and get rich instantly. Beware of individuals or companies that promise huge returns on crypto investment. Learn more about cryptocurrency scams and how to avoid them.
Bitcoin Exchanges in Tanzania
A Bitcoin exchange is a platform where you can buy bitcoin. There are several cryptocurrency exchanges to choose from in Tanzania. However, it is best to conduct thorough research on available exchanges to compare fees, the supported or recommended wallets, and supported payment methods.
The following are the best places to buy bitcoin in Tanzania:
Is Bitcoin legal in Tanzania?: Tanzania has not banned bitcoin. The Bank of Tanzania does not regulate bitcoin and other cryptocurrency transactions in the country. However, in 2021, President Samia Suluhu Hassan told the Bank of Tanzania recently to prepare for cryptocurrency as the age of crypto and blockchain was dawning.
Best Bitcoin Wallets in Tanzania
A bitcoin wallet is a virtual wallet that stores your bitcoin, with a public key for receiving funds and a private key for accessing and managing your Bitcoin. Best crypto wallets include Samourai, Muun wallet, Exodus, BlueWallet, Ledger wallets and the Trezor wallets.
Getting Started With Cryptocurrency in Tanzania
In conclusion, there are reliable platforms in Tanzania where you can buy Bitcoin due to the growing interest in the cryptocurrency. This article has explored some of the best places to buy bitcoin in Tanzania like Paxful and Yellow Card that cater to Tanzanian users. We have also discussed different payment methods available for purchasing bitcoin, including bank transfers and widely used mobile money services like Mpesa and Tigo Pesa. With the information provided, you now have the knowledge to start buying crypto in Tanzania. Remember to do your research and stay updated on the cryptocurrency landscape.
LocalBitcoins Tanzania: LocalBitcoins discontinued its service on February 9, 2023. For the next 12 months, existing LocalBitcoins customers will only be able to log in to withdraw their bitcoin.