Bitcoin is increasingly becoming popular in Tanzania like other African countries such as Nigeria, and Kenya and South Africa. Although Tanzanians are interested in bitcoin, most are still in the dark about where to safely store, sell and buy bitcoin in Tanzania. We will take you through how to buy and sell cryptocurrency and where to store your cryptocurrencies in Tanzania.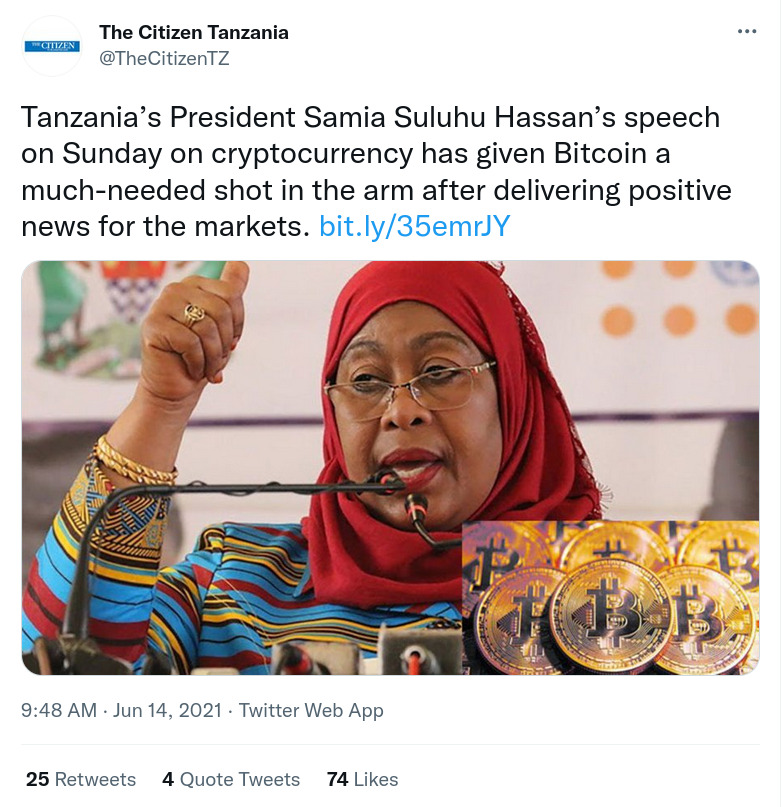 Bitcoin Do's and Don'ts
Trade or invest only in bitcoin as a long term investment. Altcoins are copy-cats, scams or simply nonsensical, avoid them.
Don't trade or invest into bitcoin more than you can afford or willing to lose. Generally, it is advisable not to invest more than 10% of your funds into bitcoin. We don't recommend day-trading or betting on crypto.
Only use non-custodial wallets to store your bitcoin. Don't leave your bitcoin on a crypto exchange after buying. Use cold wallet such as Trezor for long term investment. Always have safe backups for when your wallet gets lost.
What You Need Before You Buy Bitcoin in Tanzania
Before you can buy crypto in Tanzania, you need the following.
A cryptocurrency exchange in Tanzania. A crypto exchange is a platform that allows its users to buy and sell cryptocurrencies. It is a cryptocurrency marketplace (or a cryptocurrency "shop"). A cryptocurrency exchange can be a local one or a global one with multi-currency support.
Payment method. Your payment method will depend on the cryptocurrency exchange's supported payment method. It can be mobile money such as Airtel Money, Mpesa, debit card, credit card, bank transfer, money transfer services such as Western Union, Wise (formerly TransferWise), etc.
Crypto wallet. Cryptocurrencies are not physical currencies. Therefore, you need a secure cryptocurrency wallet to store your cryptos. Crypto wallets in Tanzannia are of different types: mobile, web, desktop and hardware. Best cryptocurrency wallets in Tanzania include software cryptocurrency wallets such as Samourai or a hardware wallet such as Trezor and Ledger. All these are best bitcoin wallets for Tanzania.
Your bitcoin wallet is protected by "private keys" (a form of password). You are advised to store your cryptocurrency in a wallet that you have the private keys for (non custodial wallet). Cryptocurrency exchanges, such as the ones listed below, may have their own wallet where you can store your bitcoin but you don't have the full control. And as it is said in the crypto community, "Not your keys, not your coins."
Bitcoin Exchanges in Tanzania
A Bitcoin Exchange is a platform where buying and selling of bitcoin takes place. There are several cryptocurrency exchanges to choose from in Tanzania. However, it is best to conduct thorough research on available exchanges to compare fees, the supported or recommended wallets, and supported payment methods. When buying bitcoin or any other cryptocurency, there will be a price of bitcoin you are buying and a fee crypto exchanges add a for trading on their platforms.
The following are the best Bitcoin exchanges in Tanzania:
Is Bitcoin legal in Tanzania?: Tanzania has not officially banned bitcoin. The Bank of Tanzania does not regulate bitcoin and other cryptocurrency transactions in the country. However, President Samia Suluhu Hassan told the Bank of Tanzania recently to prepare for cryptocurrency as the age of crypto and blockchain was dawning.
LocalBitcoins Tanzania
LocalBitcoins discontinued its service on February 9, 2023. For the next 12 months, existing LocalBitcoins customers will only be able to log in to withdraw their bitcoin.
LocalBitcoins is a peer-to-peer marketplace that connects bitcoin buyers and sellers. The platform allows users to list their own buy/sell advertisements. LocalBitcoins' supported payment methods include bank transfer, cash, Swish, SEPA, PayID, VTB Bank, QIWI, Mobile top-up, Sberbank, Tinkoff, Alfa-Bank, M-Pesa, and more.
Pursa Tanzania
Pursa is one of the best places to buy and sell bitcoin instantly in Tanzania. You can trade bitcoin on Pursa with Ezy Pesa, Airtel Money, MasterCard, Halotel Money, Tigo Pesa, Visa, or TTCL. You do not need to register to make transactions.
Send, Deposit, Exchange, and Buy Bitcoin with Telegram Online in Tanzania
It is now possible to buy cryptocurrency in Tanzania, receive, exchange and send to other wallets for free using the instant messaging app, Telegram. At the moment, you can only buy with a bank card.
To use the feature, open the Telegram messenger and search for "wallet". Open the Telegram's official wallet bot, click "/start" and select the options showing depending on whether you want to buy, send, receive or deposit cryptocurrency. You should also add it to the menu (for easy access).
Paxful Tanzania
Paxful is another popular peer-to-peer bitcoin exchange for buying and selling cryptocurrency in Tanzania. It accepts different payment methods such as iTune Gift Card, PayPal, Flexepin, Western Union, Amazon Gift Card, Neosurf, bank transfer, and credit/debit cards.
Coinmama Tanzania
Coinmama was founded in 2013 and has since served over 2 million customers across 188 countries including Tanzania. Coinmama supports several payment methods including credit and debit cards, ACH, SEPA/SWIFT, and faster payments.
Cryptocurrency scams are on the rise all over the world including Tanzania. Don't entertain social media messages or emails asking you to "join bitcoin" and get rich instantly. Beware of individuals or companies that promise huge returns on crypto investment. Learn more about cryptocurrency scams and how to avoid them.
BitPesa Tanzania
BitPesa is an easy-to-use Kenyan bitcoin exchange with offices in Luxembourg, Madrid, Dakar, London, and Lagos. The supported payment methods include debit card, mobile money such as Mpesa and Tigo Pesa, and direct deposits (TZS, KES, UGX, NGN, GHS).
Yellow Card Tanzania
Yellow Card is an ideal bitcoin exchange platform for newbies and non tech savvy crypto traders in Tanzania. It is a simple to use platform with low fees. The preferred payment method for you to buy bitcoin is mobile money and bank transfer. Read our full Yellow Card review.
Binance
Binance is a respectable cryptocurrency marketplace that accepts deposits in over 50 currencies including EUR, USD, KRW, GBP, RUB, JPY, AUD, etc. Binance payment methods include credit cards, debit cards, and international bank transfers.
Remitano
Remitano is a Seychelles-based cryptocurrency exchange that provides an escrowed P2P crypto marketplace that supports the buying and selling of cryptocurrencies in Tanzania. The payment methods it supports include bank transfers, credit cards, and debit cards.
CEX.io
CEX.IO is a user-friendly crypto exchange that you can use to buy or sell bitcoin in Tanzania. It allows you to buy bitcoin with multiple payment options like bank transfer, debit or credit cards, and mobile wallets such as Skrill. The downside to this excellent platform is that its verification procedure requires private information and the verification process may take longer than other platforms.
CEX.io allows you to convert your bitcoin into local currency and withdraw the money through your bank account.
Best Bitcoin Wallets in Tanzania
A bitcoin wallet is a software program in which bitcoins are stored. Bitcoin wallets are available in many forms including hardware devices, web-based, and mobile apps. Most Bitcoin wallets are supported in Tanzania. They include Samourai, Muun wallet, Exodus, BlueWallet, Ledger wallets and the Trezor wallets.
How to Buy Bitcoin in Tanzania
Bitcoin exchanges provide a safe place to buy bitcoin in Tanzania. The following are the basic steps of buying bitcoin through different platforms in Tanzania;
Choose your Preferred Bitcoin Exchange
With the rising popularity of cryptocurrencies, crypto exchanges are also increasing in numbers. It is best to conduct proper research on the available platforms to choose one that fits your needs. Things to look for when choosing a cryptocurrency exchange in Tanzania include:
Fees. Usually, the fees you pay will depend on the payment method you choose. If you are using credit or debit card to buy bitcoin, be prepared to pay higher fees. For peer-to-peer trade, compare prices from different sellers and pick one you can comfortably afford.
Geographical Availability. It is important to ensure that the exchange you choose provides services in Tanzania.
Delivery Times. Consider how fast you want to get your bitcoin from the time of purchase. This will also depend on the supported payment methods because some payment methods such as credit and debit cards are faster than buying with cash.
Payment Methods. Before choosing an exchange, it is best to confirm that the payment method you need is available.
Register and Get Verified
After choosing a convenient payment platform, you will need to register for an account and go through their Know Your Customer (KYC) verification process. Note that some exchanges such as Pursa do not require you to register to transact.
Deposit Fiat and Buy Bitcoin
When your account has been verified, deposit your fiat currency and once the money is in your account, you can buy bitcoin.
How to Sell Bitcoin in Tanzania
You can decide to sell your bitcoin via an exchange, do direct trade, or carry out a peer-to-peer transaction. When selling bitcoin through an exchange, you will first need to create an account or log in to your existing account on the specific platform. Then, pick the "Sell" option and click your currency. Doing so will bring the page with offers to sell bitcoin. Next is to pick your preferred payment method and enter the amount you want to trade. In the location list, select Tanzania then click "Find Offers" to find available offers. After finding an offer, click "Sell" and enter the amount you want to trade and click "Sell Now". A dialogue box will appear with a warning where you'll need to confirm that you understand the risks involved by clicking "I Understand" then trading begins. Discuss the necessary details of the trade with your trading partner and when your partner has made payment, confirm the payment then click "Release" and the bitcoin will be released to the buyer's wallet.
Bitcoin Price in Tanzania
Bitcoin prices keep changing according to the foreign exchange rates for a particular day. Different exchanges have bitcoin calculators which traders can use to find out how much their bitcoin is worth in Tanzanian Shilling.
Further tips Bitcoin in Tanzania
With the increasing crypto scams around the world, it is important to ensure that you handle your digital assets in the safest way possible. This includes conducting thorough research before choosing a cryptocurrency exchange in Tanzania and storing your crypto in the best cryptocurrency wallets in Tanzania.