Bitcoin and other cryptocurrencies keeps growing in popularity and usage since it was first introduced globally in 2009. In this article, we will show you how to safely buy bitcoin and other cryptocurrencies in Ethiopia.
Based on the Ethiopian cryptocurrency regulation report, crypto activities have a safety rank of 0.8/10. Ethiopia ranks 236 out of 249 countries in the safety rank. There are no exchange offices for Bitcoin in Ethiopia.
Is Bitcoin legal in Ethiopia? Bitcoin is not recognized as legal tender by the Ethiopian government and the central bank does not regulate Bitcoin transactions. However, you can buy, sell, and hold cryptocurrency in Ethiopia.
Quick facts about cryptocurrency
Cryptocurrency is a digital currency that can be used for buying goods and services as well as crypto investment.
There are many cryptocurrencies, Bitcoin and shitcoins. The most popular crypto is Bitcoin, which is the cryptocurrenc we recommend for Ethiopia. Bitcoin is the original and the leading digital currency. It was created in January 2009 by Satoshi Nakamoto. The true identity of Satoshi Nakamoto is not known.
As of January 28, 2022, 1 bitcoin equals 1,839,736.50 ETB. While the Ethiopian Birr can be subdivided into 100 cents, the smallest unit of Bitcoin, called Satoshi, is one hundred millionth of a single Bitcoin (0.00000001 BTC).
Cryptocurrency scams are on the rise all over the world including Ethiopia. Don't entertain social media messages or emails asking you to "join Bitcoin" and get rich instantly. Beware of individuals or companies that promise huge returns on crypto investment. Learn more about cryptocurrency scams and how to avoid them.
What You Need Before You Buy Cryptocurrency in Ethiopia
Before you can buy crypto in Ethiopia, you need the following.
A cryptocurrency exchange in Ethiopia. A crypto exchange is a platform that allows its users to buy and sell cryptocurrencies. It is a cryptocurrency marketplace (or a cryptocurrency "shop"). A cryptocurrency exchange can be a local one or a global one with multi-currency support.
Payment method. Your payment method will depend on the cryptocurrency exchange's supported payment method. It can be mobile money, debit card, credit card, bank transfer, money transfer services such as Western Union, Wise (formerly TransferWise), etc.
Crypto wallet. Cryptocurrencies are not physical currencies. Therefore, you need a secure cryptocurrency wallet in Ethiopia to store your cryptos. Bitcoin wallets in Ethiopia are of different types: mobile, web, desktop and hardware. Best Bitcoin wallets in Ethiopia include software cryptocurrency wallets such as Samourai or a hardware wallet such as Trezor and Ledger. All these are best cryptocurrency wallets for Ethiopia.
Your Bitcoin wallet is protected by "private keys" (a form of password). You are advised to store your cryptocurrency in a wallet that you have the private keys for (non custodial wallet). Cryptocurrency exchanges, such as the ones listed below, may have their own wallet where you can store your bitcoin but you don't have the full control. And as it is said in the crypto community, "Not your keys, not your coins." You should always buy hardware wallets directly from the original manufacturer or official resellers. Other private sellers online might have manipulated the wallet before selling it in order to steal your cryptos.
How to Use Cryptocurrency in Ethiopia
Though I first heard about Bitcoin in 2015, I was hesitant. I understood the necessity of it after I traveled to some countries, where ATMs can give you conventional currencies for Bitcoin. After I first bought Bitcoin, many things changed. Now I can buy from Amazon. I pay in Bitcoin, then Fedex or DHL can deliver to me. I can import a Toyota Vitz for between ETB340,000 to ETB345,000 and rent it for ETB300 a day. However, I earn ETB400 to ETB460 profit a day from Bitcoin. – says Shiferaw Tamirat, a car importer based in Addis Ababa.
How to Buy Bitcoin in Ethiopia
In order to buy cryptocurrency in Ethiopia, you need a cryptocurrency wallet and a crypto exchange in Ethiopia. Which wallet does Ethiopia use? You can use hot crypto wallet such as Samourai and cold crypto wallet such as Trezor and Ledger.
Once you have a wallet and selected an exchange, you can use several payment methods to make payment for the Bitcoin you wish to buy. Among them are the traditional payment methods such as bank transfers and debit cards. However, the availability of the payment methods depends on the exchange you are going to use.
Cryptocurrency Exchange in Ethiopia
Paxful Ethiopia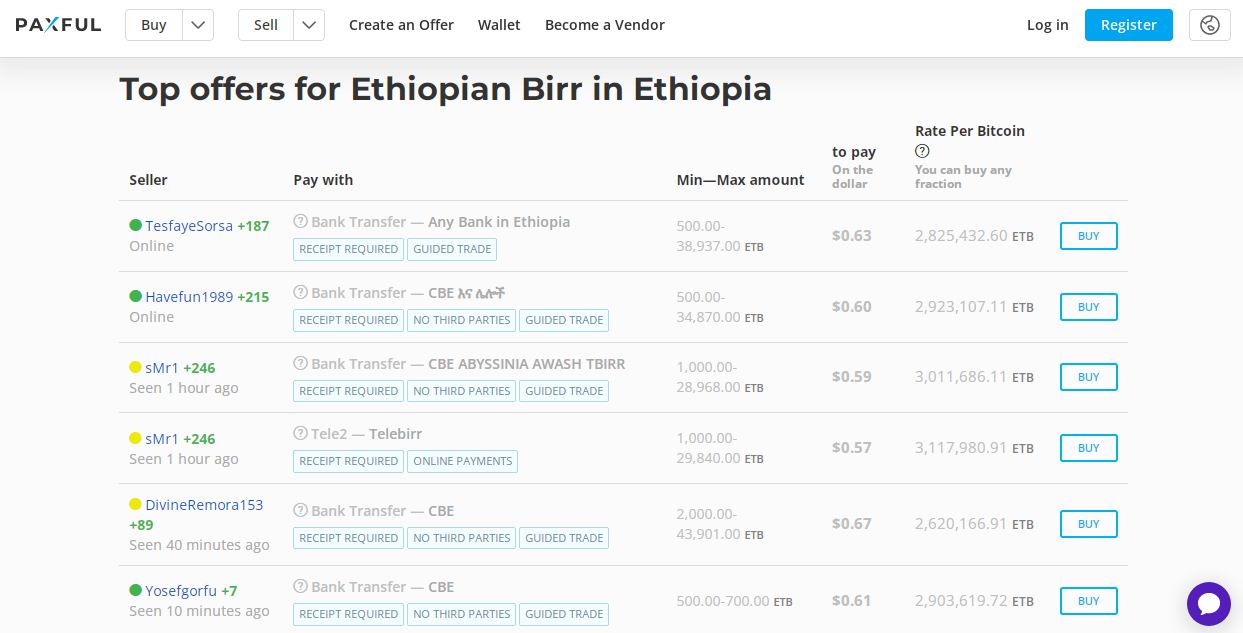 One of the best ways you can buy cryptocurrency in Ethiopia is through the peer to peer cryptocurrency exchange platform Paxful. Paxful has several payment methods that you can use to buy cryptocurrency in Ethiopia. Some of supported payment methods for Paxful in Ethiopia are local bank transfers such as Commercial Bank of Ethiopia, cryptocurrency gift cards, PayPal, Skrill, credit card, debit cards, etc.
How to Buy Cryptocurrency from Paxful Ethiopia
Follow the following steps to buy cryptocurrency from Paxful in Ethiopia:
Sign up of Paxful website and verify your account.
Search for crypto sellers on the plaform and select a reputable seller whose terms are ideal for you.
Once you are satisfied you can make a payment using the approved methods and you will receive your cryptos instantly.
Localbitcoins Ethiopia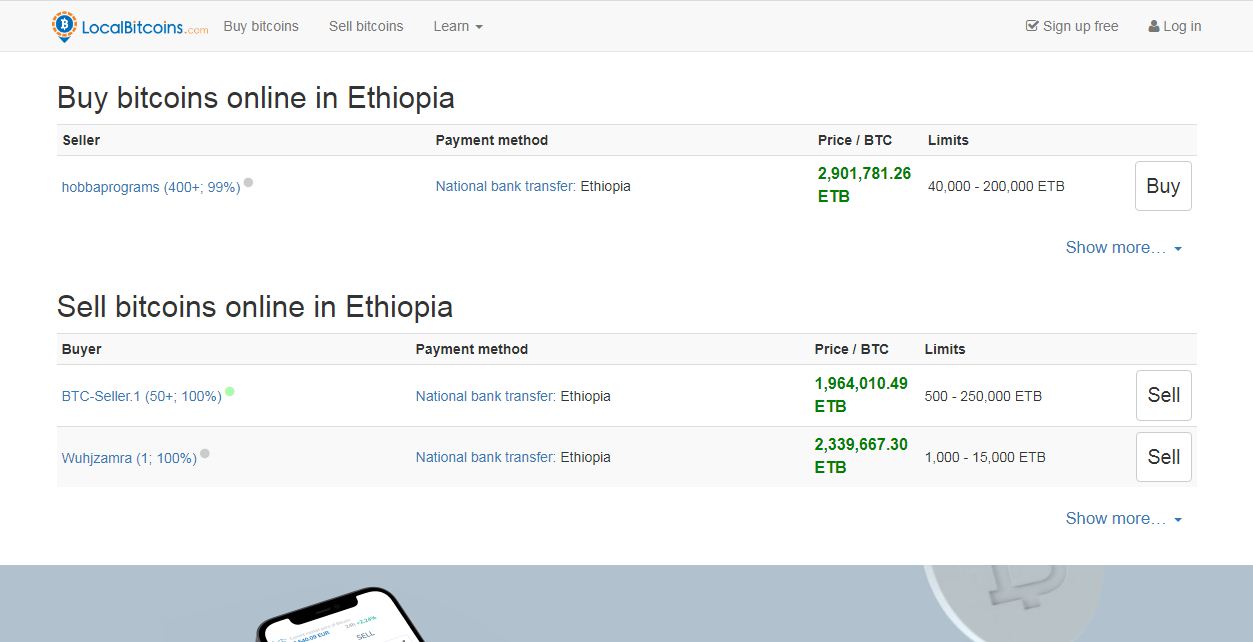 Another good option for buying Bitcoin in Ethiopia is LocalBitcoins. With Localbitcoins platform, you can buy Bitcoin using a bank transfer or cash.
On LocalBitcoins, crypto sellers create advertisements where they can choose the payment method and exchange rate for buying or selling Bitcoins from and to other users. The platform uses escrow to protect both buyer and seller by keeping the Bitcoins safe until the payment is done and the seller releases Bitcoins to the buyer. In addition, LocalBitcoins provides a custodial wallet from where you can send and receive Bitcoin.
Your cryptocurrency wallet is protected by "private keys" (a form of password). You are advised to store your cryptocurrency in a wallet that you have the private keys for (non custodial wallet). Cryptocurrency exchanges such as LocalBitcoins have their own wallet where you can store your Bitcoin but you don't have the full control. And as it is said in the crypto community, "Not your keys, not your coins."
How to Buy Cryptocurrency from LocalBitcoins Ethiopia
To buy Bitcoin from LocalBitcoins, follow the following steps:
Sign up for a free account.
Once your account has been verified, you can buy cryptos by specifying the amount, currency, and mode of payment, and location.
Click on the 'search' tab to filter the list of crypto sellers according to your preferences.
After finding the right offer, click on it and follow the instructions about the payment.
You will receive your crypto in your LocalBitcoins wallet. You can migrate your cryptos to an external wallet.
SpectroCoin Ethiopia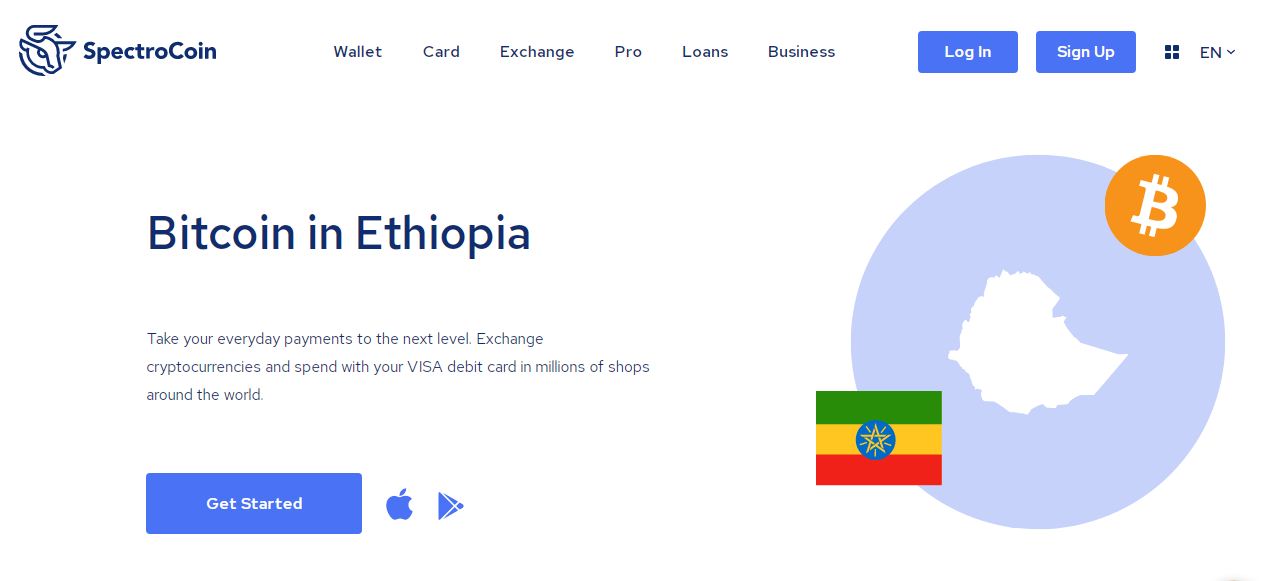 SpectroCoin is a cryptocurrency exchange and Bitcoin wallet. You can buy over 50 cryptocurrencies including Bitcoin on the platform. Supported payment methods for buying cryptocurrency on SpectroCoin in Ethiopia include Visa and MasterCard.
What's very interesting about SpectroCoin is that you can get a European non resident account with European with IBAN. Moreover, you are able to use your cryptocurrency to obtain a crypto backed loan.
How to Buy Cryptocurrencies from SpectroCoin in Ethiopia
Buying cryptos on SpectroCoin platform is simple and straightforward:
Create an account by filling the registration form.
After completing the registration, you will receive a confirmation email.
Once your account is verified, you can deposit crypto or fiat currency by choosing the most convenient option from the deposit section of your account. The funds will appear in your SpectroCoin wallet instantly.
To buy Bitcoin, open the "Exchange" section of your account, enter the amount you would like to buy and follow the steps.
Send, Deposit, Exchange, and Buy Bitcoin with Telegram Online in Ethiopia
It is now possible to buy cryptocurrency in Ethiopia, receive, exchange and send to other wallets for free using the instant messaging app, Telegram. At the moment, you can only buy with a bank card.
To use the feature, open the Telegram messenger and search for "wallet". Open the Telegram's official wallet bot, click "/start" and select the options showing depending on whether you want to buy, send, receive or deposit cryptocurrency. You should also add it to the menu (for easy access).
Pursa Exchange Ethiopia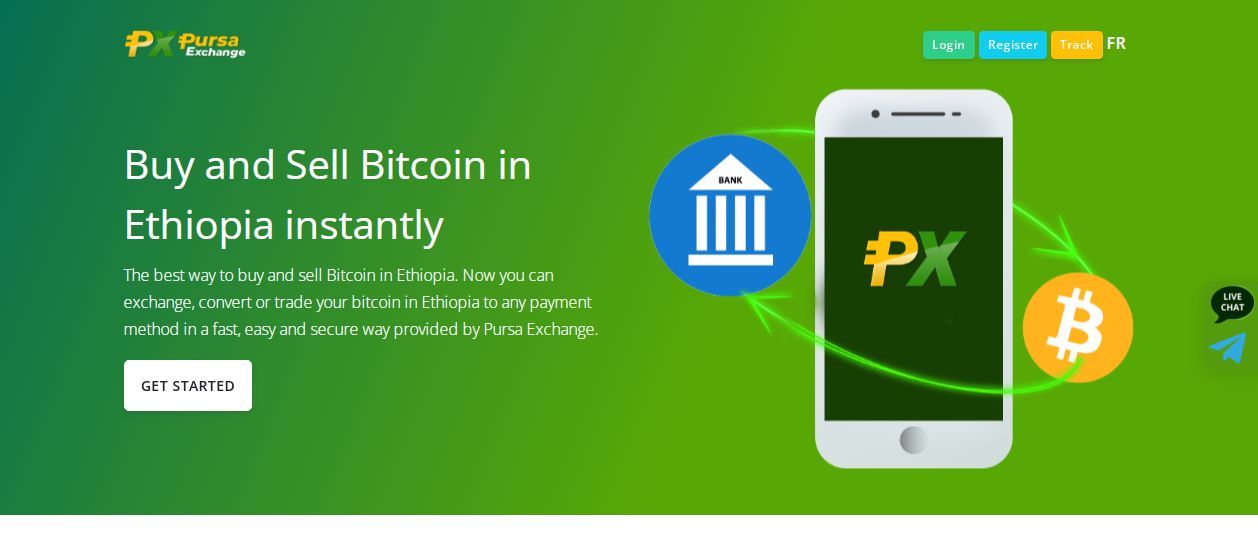 Pursa is one of the best exchanges to buy Bitcoin instantly in Ethiopia with a bank transfer and debit or credit card. Pursa allows you to transact without depositing money on the platform. To buy on the plaform you need to first deposit money using WorldRemit, Western Union, MoneyGram, bank transfer and debit/credit card.
How to Buy Cryptos from Pursa Exchange Ethiopia
Enter your email address. You will receive a confirmation code in your email.
After verifying your email, you need to fill out your personal profile and choose default currency.
Set up a 6 digit pin code on your account, which will take you to Pursa dashboard.
Click on "buy Bitcoin" and select payment method, enter your ETB amount, you will be shown Bitcoin value.
Enter your Bitcoin wallet address and buy instantly from the funds you deposited.
LocalCryptos Ethiopia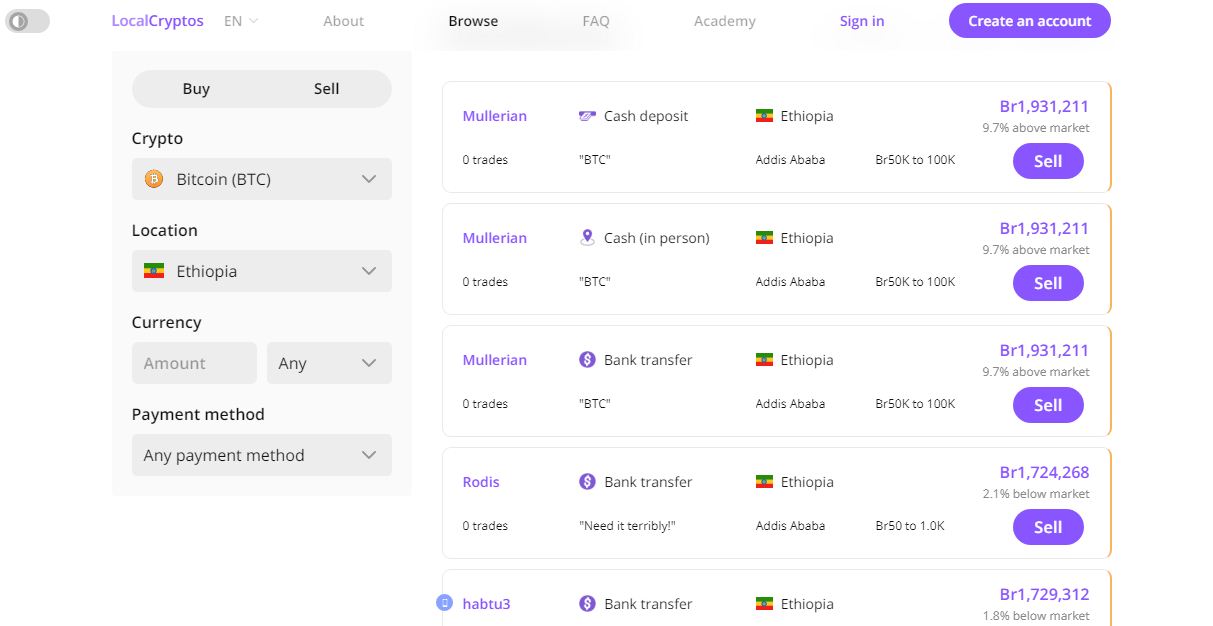 LocalCryptos is a peer to peer cryptocurrency exchange that enables you to buy acrypto using non-custodial wallets and a non-custodial escrow system. As a a non-custodial peer-to-peer marketplace, LocalCryptos does not hold the keys to your crypto.
When you buy cryptos from LocalCryptos, you will exchange directly with another person. This means the payment method will be discussed by the two of you. Supported cryptocurrencies are Bitcoin, Ethereum, Litecoin, Dash and Bitcoin Cash.
How to Buy Crypto from LocalCryptos Ethiopia
You need to create your account for free
Once your account is confirmed, find a seller who suits you or publish your own ad. You can filter offers by payment method, currency, price, location, and more.
When you find a seller you are happy with, choose the amount you want to buy, then lock in an exchange rate.
The other party will receive a notification and you'll typically hear back immediately.
After the seller puts the crypto in an escrow account, you pay the seller outside the platform. A decentralized escrow account holds the crypto in trust until it's paid for. This ensures both sides hold up their end of the deal.
Once the seller confirms payment, crypto is released from escrow to your crypto wallet.
Price of Bitcoin in Ethiopia
You may wonder what determines the price of Bitcoin; many factors affect their prices. The main one is demand and supply. When demand increases, the price increases as well and when demand falls, the price falls. Other factors include momentum caused by growing interest, regulations of Bitcoin in a country and also Bitcoin price predictions by analysts.
Before buying crypto in Ethiopia, make sure you have familiarised yourself with the fee structure of the cryptocurrency exchange you intend to use.
Final Thoughts on Cryptocurrency in Ethiopia
Cryptocurrency trading in Ethiopia is not regulated by the government, therefore traders must be extra careful to prevent themselves from possible crypto scams. Nevertheless, people are making billions from the Bitcoin trading and Bitcoin investment and therefore, you too can be one of them. All you need is due diligence while making any transactions.