Fidor Bank is a German a virtual bank that offers personal IBAN and business IBAN accounts, free SEPA transfers, crypto banking, virtual cards, crypto settlement accounts for cryptocurrency businesses, etc. Fidor bank account opening is free.
Fidor Bank is suspending its services
Fidor will suspend all its banking services later this year.
Fidor Bank Alternatives
There are several other banks that offer similar products, including crypto banking and crypto trading, with IBAN, SEPA, and virtual card. Some of these banks include:
What is special about Fidor bank?
European IBAN Accounts. You can open both individual account and business account. Account opening is free.
Investment. You can invest in Fidor Saving Bonds and Fidor Capital Bonds and trade in forex.
Fidor loans and overdraft. Instant loans up to €50,000 and up to €3,000 speed overdraft facility.
Cryptocurrency. Buy and sell cryptocurrencies using Bitcoin.de and Kraken and manage crypto assets in Fidor dashboard in real time. Cryptocurrency businesses can also open cryptocurrency settlement accounts.
Bonus. Monthly €5 activity bonus from the 11th transaction.
Account switching. Free service to switch your personal or business account from your old bank to Fidor in minutes.
Fidor was founded in Germany by Matthias Kröner, Dr. Michael Maier, Steffen Seeger and Martin Kölsch in 2009. It has its headquarters located in Munich. The bank has received an award for being the most transparent bank and one with innovative means through through the use of social media. For example, The bank has over 310 thousand memes in Germany alone. The World Economic Forum awarded the bank an award, Global Growth Company.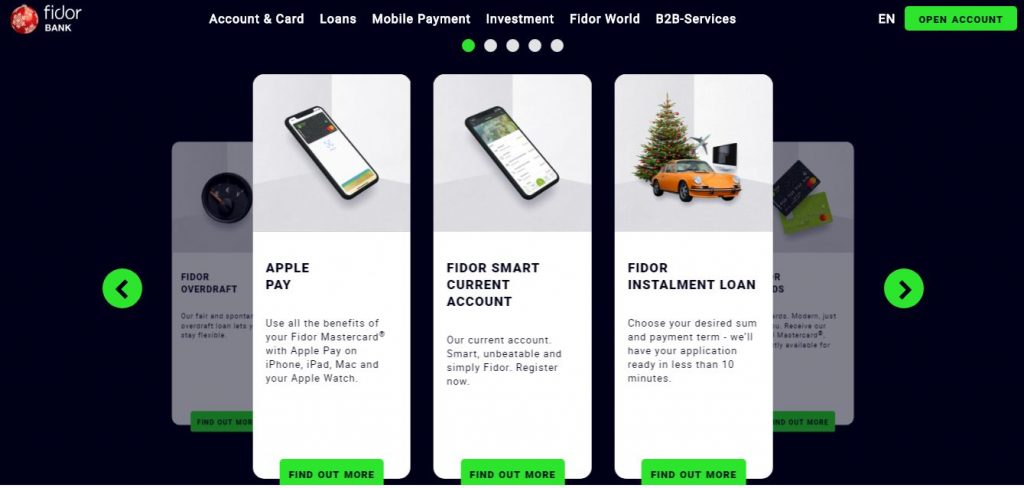 Fidor Website / Fidor App
Fidor Bank has a responsive banking app and website for your banking needs. You can use Fidor bank app to integrate your Fidor Pay with your Fidor MasterCard. This makes it possible to make contactless payments using Android or iOS. The app uses innovative and secure technology to ensure that your money is safe. You can make transactions without an internet connection.
Fidor's Products and Services
Fidor Bank has a slogan, "Banking with Friends," due to the critical role their customers play. The bank serves both retail customers and business customers. The services it offers include:
Currently, Fidor does not offer joint bank accounts. Virtual banks offering joint bank account in Europe include N26, Revolut, Bunq, Monese and Monzo.
Buy Cryptocurrency with Fidor Bank
As a Fidor bank account holder, you are able to buy and sell cryptocurrencies using Bitcoin.de or Kraken.
Through its partnership with Kraken, a US crypto exchange, you can integrate your Kraken account in the Fidor Cash Manager under 'Cryptocurrencies'. As a result, you will always have your crypto portfolio in view and you can therefore buy or sell cryptocurrencies conveniently. The integration of the Kraken account in the Fidor Cash Manager does not incur any extra costs for you. However, Kraken may charge fees for selling and buying cryptocurrencies.
With Bitcoin.de, if you have an active current account, you can use "express trading" to buy or sell cryptocurrencies and complete the transaction in a few minutes. This is because the money used for the purchase remains in your current account until the final purchase and does not have to be transferred to an interim account in advance. On Bitcoin.de, you buy cryptocurrencies directly from the seller and transfer the amount directly to them. Bitcoin.de only acts as a marketplace and intermediary between you and the seller.
Fidor Bank Fees
| Service | Fidor fees |
| --- | --- |
| Account opening | 0 EUR |
| Account management | 5 EUR/month (If you conduct more than 10 transactions per month, your Fidor Smart Current Account will receive our Activity Bonus of 5 EUR per month) |
| Cash withdrawal | 0 EUR |
| ATM withdrawal | 3 EUR per withdrawal |
| Currency conversion | 5000 EUR = 1,5% |
| Card fee | Fidor Debit MasterCard = 1 EUR/month, Fidor SmartCard = 2 EUR/month, Fidor virtual card = 0 EUR |
| SEPA transfers | 0 EUR |
| Forex trading | 1.5 % |
| Crypto trading fees | 0 – 0.26% |
| SMS notification | 0.10 EUR per SMS |
| Email notification | 0 EUR |
| Reset of card PIN after entering it wrong three times | 8.50 EUR |
Fidor Bank Supported Countries
Currently, the bank is serving residents of the European Economic Ares including Switzerland.
Is Fidor Bank Safe?
Fidor bank is legit and safe. Up to €100,000 of your money is safeguarded by Germany's Deposit Guarantee Scheme. Fidor app allows you to receive transaction notifications in real-time and using Geo-Blocking and manage the countries where you want your card to be valid.
Fidor Bank Customer Support
In case you need help, you can contact Fidor bank through an email or phone call. You can contact them through their hotline number +49 89 189085 454, while their email is hello@fidorbank.uk. Their business hours are from 10 am to 2 pm from Monday to Friday.
Fidor Supported Language
Fidor Bank has a chatbot that uses conversational AI that can understand the natural language.
Fidor Bank UK: After the UK decided to leave the EU, Fidor Bank decided to withdraw its product and service offerings in the UK on the 15th of September 2019.
Fidor Customer Online Reviews
Fidor Bank account has a poor customer user rating experience of 1.8 out of 5 stars on TrustPilot from over 2,000 people (September 2021). This is a poor rating with many customers complaining of the bank's slow response to their emails by the customer support and abrupt closure of their account. 43% of the customer reviews show that the bank has excellent services, while 44% rated their experience using the bank as "bad." Also, the verification process is tedious, even to customers with all the necessary documents.
Fidor Alternative
Other banks that offer similar products such as crypto banking and crypto trading are the following.
More Information
What's Fidor Bank?
Fidor Bank is a German online bank offering banking products and services, including offers personal IBAN and business IBAN accounts, SEPA transfers, crypto banking, virtual cards, crypto settlement accounts for cryptocurrency businesses.
Who is the founder of Fidor Bank?
Matthias Kröner, along with Martin Kölsch, founded Fidor Bank in 2003 under the name Kölsch Kröner & Co. AG. The bank's name was later changed to Fidor Bank AG in 2006.
Where is Fidor Bank based?
Fidor Bank is based in Munich and Berlin, Germany.
How do I open a bank account with Fidor?
To open a bank account with Fidor, you need to visit its website. Regrettably, the bank has declared its decision to discontinue its services later this year.
What is Fidor Bank crypto?
Fidor Bank was one of the first banks in Europe to offer fiat and cryptocurrency services.