Fidor Bank is a virtual bank founded in Germany by Matthias Kröner, Dr. Michael Maier, Steffen Seeger and Martin Kölsch in 2009. It has its headquarters located in Munich. The main motive for its establishment was to enables its customers to participate in the bank's decision making. It offers personal banking products and business banking. Some of the personal banking services it provides include the smart current account and a savings bond while it also participates in lending offers.
The bank has received an award for being the most transparent bank and one with innovative means through through the use of social media. For example, The bank has over 310 thousand memes in Germany alone. The World Economic Forum awarded the bank an award, Global Growth Company.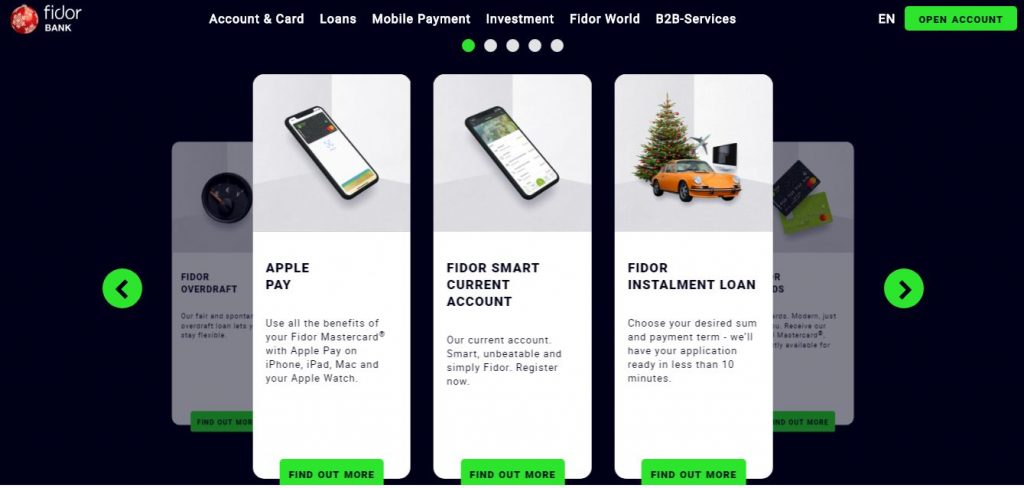 Fidor's Banking License
Fidor got its UK banking license in 2009. However, later in 2016, France based Groupe BPCE acquired the bank. However, the bank's integration was not successful, especially with its decision to leave the UK market due to Brexit in the UK. The bank continued to operate under its banking license even at the end of 2016.
Fidor Website/App
Fidor Bank has a responsive banking app and website for your banking needs. You can use Fidor bank app to integrate your Fidor Pay with your Fidor MasterCard. This makes it possible to make contactless payments using Android or iOS. The app uses innovative and secure technology to ensure that your money is safe. You can make transactions without an internet connection.
Fidor Supported Countries
Currently, the bank is serving customers from Germany, Singapore, the Netherlands and Dubai.
Fidor Bank Customer Support
In case you need help, you can contact Fidor bank through an email or phone call. You can contact them through their hotline number +49 89 189085 454, while their email is [email protected] Their business hours are from 10 am to 2 pm from Monday to Friday.
Fidor Supported Language
Fidor Bank has a chatbot that uses conversational AI that can understand the natural language.
Fidor's Products and Services
Fidor Bank has a slogan, "Banking with Friends," due to the critical role their customers play. The bank serves both retail customers and business customers. The services it offers include saving bonds and investment opportunities in foreign countries. Besides, it also provides lending to its customers through its Fidor Smart Account. You can withdraw money using Fidor Cash from over 12,000 retailers. Fidor provided virtual card and physical debit cards to its customers. Fidor support cryptocurrency banking using the bank's Crypto dashboard and also manage accounts in real-time.
Fidor Business Account

Fidor Bank has a Smart Business Account that helps you not only access banking services for your businesses but also meet with an extensive community network. The network provides a platform where finance experts can exchange ideas and exchange knowledge. With the smart banking account, you can make international cash transfers at low fees and in different currencies. Alternatively, you can use Fidor Business Debit MasterCard at the cost of only 3 euros every month. The account also offers speed overdraft to small startups at 12.5% interest per annum.
Fidor Customer Online Reviews
Fidor Bank account has a customer user rating experience of 2.3 out of 5 stars on TrustPilot. This is a poor rating with many customers complaining of the bank's slow response to their emails by the customer support and abrupt closure of their account. 57% of the customer reviews show that the bank has excellent services, while 29% rated their experience using the bank as "bad." Also, the verification process is tedious, even to customers with all the necessary documents. There is a lot of uncertainty about the bank's future since its exit from the UK market in 2019.
More Information