Relai is a Swiss bitcoin investment app that you can use to buy and sell bitcoin from your bank account. To use Relai, you don't need to register an account or submit personal information and documents. This Relai review will tell you all you need to know about bitcoin investing with the platform.
What's Special About Relai?
You do not need to provide your personal details or register an account (Yes. At Relai you can buy Bitcoin without KYC).
With Relai, you can buy Bitcoin with checking account.
Using Dollar Cost Averaging (DCA) method, you can invest in Bitcoin by buying a specific amount every week or month.
It supports non-custodial crypto wallet so you have full control of your private keys.
There is Relai referral program where you can earn bitcoin for every successful referral. Our referral code is REL222. This code gives you a 16% discount in the transaction fees you pay.
Disadvantages of Relai include support for a single payment method and limited fiat money, EUR and CHF.
Please take time to find out how to use Dollar Cost Averaging (DCA) to build investment portfolio and Bitcoin exchanges that support DCA.
How Relai Works
Relai is an investment app that allows one to invest in bitcoin. You do not need an account to start using it. This means that you do not need to submit personal data to open n account. To use it, you just need to download Relai app on Apple Store and Google Play Store and start using the app immediately.
Share your referral code to a friend to give discount. Our referall code is REL222. This code gives you a 16% discount in the transaction fees you pay. You can use this code, or any other.
Once you have the app in your device, enter the amount of bitcoin you want to buy and then confirm the transaction. To complete the transaction, you need to make a bank transfer to Relai. Relai payment method is SEPA. Besides, you can also set recurring bitcoin investment using an automatic payment order from your bank.
Dollar-Cost Averaging (DCA) bitcoin with Relai: By buying a specific amount of Bitcoin on Relai app every week or month, bitcoin holders build sizeable positions in an asset that they believe will multiply in value in the coming years. Find out more how to build crypto investment portfolio with Dollar Cost Averaging.
Setting up a recurrent payment is where the real fun begins. You are euro cost-averaging your investment. You can choose for daily, weekly or monthly payments. Once you have enough Bitcoin or Sats in your wallet, be sure to move it to a hardware wallet such as Trezor or Ledger.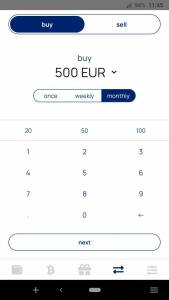 How to Buy Bitcoin on Relai
Follow these simple steps for Relai Bitcoin purchase on its app.
Open the app and select Buy BTC
Enter the amount you want to purchase
Enter the number of times you want to buy bitcoin. You can select once, weekly or monthly
Then press "Next "and enter your IBAN number
Tap next and in the next screen, and you will be provided with payment details. Send the amount indicated to the payment details provided. Also, when making payment, copy the payment message you were shown in the app.
Once you make a payment, you will receive bitcoin
How to Sell Bitcoin on Relai
Open the app and then select Sell BTC
Enter the amount you want to sell
Pres Next and enter the IBAN number
Enter IBAN number and your name
Then wait for the amount to be deposited into your account. It takes between one and two days
How to Move Bitcoin to Non Custodial Wallet
You can move your Bitcoin easily from the Wallet in your Relai app to a different wallet.
We recommend using a hardware wallet such as Trezor or hot wallets such as Samourai and Muun.
Verify and copy your new Bitcoin address to the Relai wallet when you want to make the transfer.
Relai Supported Countries
Relai is supported in all European countries, such as Germany, Austria, Denmark, Sweden, Netherlands, Italy, Poland, Spain, Belgium and France. Unfortunately you can't use their service if your bank makes use of Know Your Customer (KYC) requirements and is registered in the following countries: Ireland, Ukraine, Cyprus, Monaco, Kosovo, Malta, Belarus, Russia, Bosnia and Herzegovina or Faroe Islands.
Relai Limits for Buying and Selling Bitcoin
Due to money laundering regulations and fraud detection systems, there's Relai crypto limits for both buying and selling bitcoin.
The minimum purchase amount is €10 / 10 CHF
Your first purchase cannot be higher than €100 / 100 CHF
The minimum sell amount is 0.001 BTC
The maximum sell and buy per day is €900 / 1000 CHF
The maximum buy and sell per year is €90.000 / 100'000 CHF
Please note that the daily limit of CHF 1000.- (approx. 900 Euro) is always valid within 24h and not per calendar day. This is the AML requirement of FINMA. With these amounts, money exchange transactions are not subject to registration or licensing and therefore no KYC/AML is required.
Relai Fees and Exchange Rate
Relai BTC fees are based on transaction basis. It charges a 3% fee for a buy or sell transaction. If you use Relai code (REL222) when signing up, you will be charged a 2.5% fee. There are other fees that are charged on Bitcoin networks. Relai does not charge fees to send, receive, withdraw or deposit bitcoin. It uses Bity, a broker for exchange rates when you are selling bitcoin.
Relai Accepted Currencies
Relai accepts Euro and CHF currencies only. Customers in the UK can these services as well if their banks offer a Euro account. Citizens from the UK can easily enable a Euro account if you have a free bank account from providers such as Revolut and Wise, formerly Transferwise.
Relai Alternatives
If you are looking for other options, you can use other ways how to buy Bitcoin.
Is Relai Safe?
Relai is a non-custodial wallet, meaning that they do not hold funds or bitcoin. They use private keys that are encrypted in your mobile phone to secure customer assets. As such, customers need to keep their phones secure. Relai has transaction limits to ensure that you can only transact a certain amount.
Final Thoughts on Relai
Relai has entered the bitcoin investment market to make the process less cumbersome and easy. With Relai, you don't need to create an account or go through KYC and Anti Money Laundering procedures for transactions up to 900 Euro a day. In addition, you can DCA bitcoin with Relai as well as automate recurring investments.